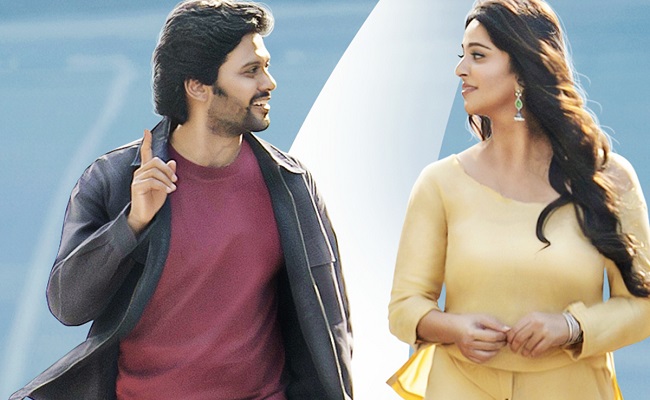 Movie: Miss Shetty Mr Polishetty
Rating: 2.75/5
Banner: UV Creations
Cast: Anushka Shetty, Naveen Polishetty, Jayasudha, Murali Sharma, Tulasi, Abhinav Gomatam, Sonia, and others
Music: Radhan
Cinematography: Nirav Shah
Editing: Kotagiri Venkateswara Rao
Art Director: Rajeevan Nambiar
Producers: Vamsi-Pramod
Written and Directed by: Mahesh Babu P
Release Date: Sep 07, 2023
The combination of Anushka Shetty and Naveen Polishetty is an unusual one. The film evoked interest since the announcement. Besides that the film has a topic of sperm donation which is a bit uneasy for a mainstream rom-com.
Let's find out how Anushka and Naveen pulled off this story.
Story:
Anvita Ravali Shetty (Anushka Shetty), an accomplished chef in London, resolves to remain single after seeing her mother's (Jayasudha) failed marriage. Her terminally ill mother wishes to spend her final days in India, so they travel to Hyderabad together.
She begins to feel lonely after her mother's death. In response, she considers having a baby by artificial means. Her wish is granted by a fertility facility in Hyderabad. Anvita, on the other hand, wants to have a kid from a donor who is clean and attractive, and she resolves to choose the donor herself.
She becomes frustrated after interviewing numerous men and failing to locate the ideal one. She meets Siddhu Polishetty (Naveen Polishetty), a stand-up comedian, by chance and feels he's the one for her.
Will he consent to donate his sperm?
Artistes' Performances:
The film is about the characters of Anushka Shetty and Naveen Polishetty, but Naveen Polishetty steals the show with his great comic timing. For the most part, his comedy and natural performance keep the drama together. He also does stand-up comedy well.
Anushka Shetty, too, demonstrates her strength in emotional scenes. She shines in the latter half of the film.
Abhinav Gomatam as the hero's pal is okay. Murali Sharma and Tulasi play their parts admirably. Jayasudha has a minor role.
Technical Excellence:
The camerawork gels with the film's theme and the visuals are appealing. Radhan's music, however, is a letdown. The songs don't work on screen. Dialogues are effective.
Highlights:
The entertaining first half
Naveen Polishetty's show
Drawback:
Predictable ending
Inconsistent second half
Weak Songs
Analysis
Films like "Naruda Donaruda" have explored the concept of sperm donation, but "Miss Shetty, Mr. Polishetty" takes it a step further.
The story of a girl desiring to have children through artificial insemination and searching for a donor is quite unusual for a Telugu film. Having popular actress Anushka Shetty in this role adds an extra layer of complexity.
Any misstep in handling such a storyline could provoke strong reactions. However, filmmaker P. Mahesh Babu skillfully balances the narrative in an entertaining manner.
One of the smartest decisions made by the producers was casting Naveen Polishetty as the donor. His casting accomplished half of the job. Making his character a stand-up comedian made the director's job easier, as Naveen Polishetty is perfectly suited for this role.
The film begins by establishing the bond between Anushka Shetty and her mother, Jayasudha, and delves into the reasons behind Anushka's aversion to marriage. This foundation helps the audience relate to the story and its subsequent developments.
The film truly becomes engaging when Naveen Shetty enters the scene. His performance drives the narrative forward, and the first half of the film is thoroughly enjoyable.
As anticipated, the film loses momentum for a while after the intermission due to a monotonous narrative style. Additionally, there are some adult-themed sequences, causing the film to drift for nearly 30 minutes.
However, filmmaker Mahesh Babu manages to bring it all together in the end. While the climax is somewhat predictable, the final act delivers some poignant moments. As a result, the film successfully strikes a balance between entertainment and emotions.
Despite the absence of standout songs and some predictability, "Miss Shetty, Mr. Polishetty" offers a decent viewing experience. Naveen Polishetty steals the show with his impeccable comedic timing, and Anushka shines with her star presence.
Bottomline: Works in Parts