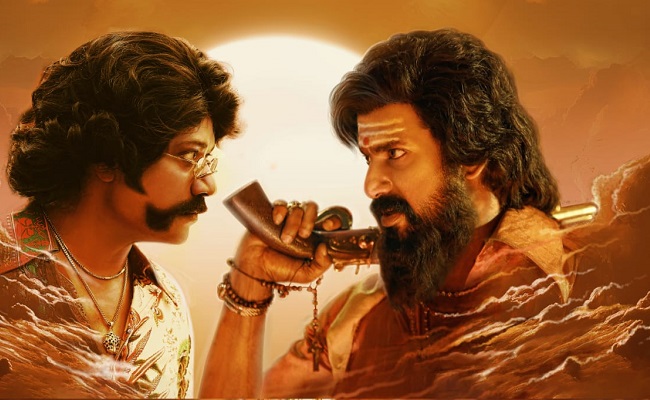 Movie: Mark Antony
Rating: 2/5
Banner: Mini Studio
Cast: Vishal, S.J.Suryah, Suneel, Selvaraghavan, Ritu Varma, Abhinaya, Kingsley, Y.G.Mahendran and others
Music: G.V.Prakash Kumar
DOP: Abinandhan Ramanujam
Editor: Vijay Velukutty
Art Director: R.K.Vijaimurugan
Producer: S.Vinod Kumar
Written and Directed by: Adhik Ravichandran
Release Date: Sep 15, 2023
Vishal and SJ Suryah's dual roles, as well as the trailer for "Mark Antony," raised some expectations for this film.
Let's find out its merits and demerits.
Story:
Set in 1995. Mark (Vishal), a mechanic, believes that his father, Antony (Vishal), a ruthless gangster, murdered his mother. Jackie Marthand (SJ Suryah), his father's friend, raises him, and Mark begins to regard Jackie as a father figure.
Jackie, like Antony, has a son named Madan (SJ Surya). Madan also likes Mark's girlfriend Ramya (Ritu Varma).
When Ramya asks Mark to repair her father's car, he discovers a box inside. The box has a telephone, invented by a scientist Chiranjeevi (Selva Raghavan), which can connect to people from the past.
The rest of the story is about how this phone changes Mark's life and how he learns the truth about his mother's murder.
Artistes' Performances:
Vishal and SJ Suryah not only get to play dual roles, but they also appear in a retro style. While Vishal exhibits both negative and positive aspects of a role, his role as Antony is more colorful and interesting.
SJ Suryah, who was riveting in the recent time travel film "Manaadu," gets to play yet another eccentric villain. Surya's performance as both father and son steals the show. His portrayal of Jackie is superb.
Suneel is adequate in the role of Ekambaram. Ritu Varma's role is more like a junior artist. Abhinaya asserts her presence.
Technical Excellence:
The film boasts top notch production values. The production design and the background score by GV Prakash Kumar stand out
Highlights:
Interval bang
SJ Surya's performance
Drawback:
Silly proceedings
Logic goes for a toss
Over the top sequences
Analysis
'Mark Antony' stars Vishal and SJ Suryah in dual roles and is set in the science fiction genre. On the surface, the concept appears to be interesting. However, the fantasy film based on the time travel concept is taken to an extreme level, making it frustrating to watch after a point.
The film is entertaining towards the end of the first half, with the interval bang setting the real base. But the proceedings are no way convincing as everything happens as per the convenience of the screenplay.
Several rules and functions of the time-travel phone are revealed at the beginning of the film, but they keep changing.
Vishal appears as a villain in the beginning, and SJ Suryah appears as a good-natured gangster. Their true natures are revealed by the interval. Hence, we get to see Vishal in both negative and positive roles, as well as SJ Suryah as both a good guy and a menacing villain. Although the film's outlandish concept allows both of these actors to shine, with Surya in particular having the opportunity to steal the entire show, it is not engaging enough.
Even the episode with the Silk Smitha lookalike doesn't work very well. Though some lines here and there provide laughs.
The time-travel element, a couple of humorous episodes, and the setting are all highlights, but the story's wackiness and the erratic narration detract from the film's impact. Concise narration would have helped.
On the whole, "Mark Antony" is quite whacky and makes no sense. Despite its best efforts to offer something new to the time travel genre, the lengthy drama makes a tiresome watch.
Bottom line: Whacky