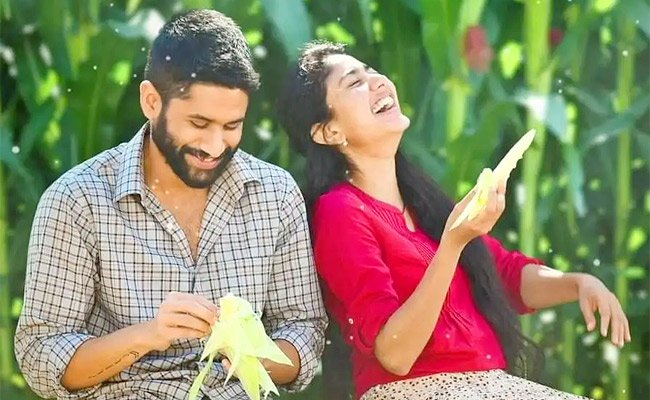 Movie: Love Story
Rating: 3/5
Banner: Sree Venkateswara Cinemas
Cast: Naga Chaitanya, Sai Pallavi, Easwari Rao, Devyani, Rajeev Kanakala, Uttej, and others
Cinematography: Vijay C Kumar
Music: Pawan CH
Producers: Narayan Das K Narang Puskar Ram Mohan Rao
Written and directed by: Sekhar Kammula
Release Date: Sep 24, 2021
One film that has occupied media space for a long time is Sekhar Kammula's "Love Story", one of the most-anticipated Telugu films. He teams up with Naga Chaitanya for the first. It also marks his second combination with Sai Pallavi after Fidaa (2017).
Amidst the hype, the film hit theaters today. Let's analyze.
Story:
Revanth (Naga Chaitanya), a youngster with ambitions to achieve something in life, runs a Zumba center in Hyderabad. He hails from Armoor in Telangana and is a Christian.
Mounika (Sai Pallavi), an engineering graduate, comes from the same village to Hyderabad to find a job. Her room is adjacent to Revanth's Zumba center.
She is also from Armoor but they have not met before as she is from a higher community and rich. Her uncle Narasimham (Rajeev Kanakala) holds a tight grip on their family and financial matters.
Seeking freedom from the clutches of her uncle, she decides to stay in Hyderabad and joins as a partner in Revanth's Zumba center. They begin to fall in love with each other.
What will happen if her uncle gets to know her love story?
Artistes' Performances:
For the first time in his career, Naga Chaitanya has portrayed a role with so much conviction. As a lower-caste Telangana youngster, he has done a remarkable job. His sincere efforts in getting the dialect can be noticed. This is his career-best performance.
Sai Pallavi once again excels in the role of Mounika. With her impeccable dance skills and nuanced performance, she steals the hearts. Sai Pallavi gets a complex and emotionally charged character and she doesn't falter a moment. She holds the scenes.
Senior actress Eeswari Rao as Chaitanya's mother is excellent. Devyani, Rajeev Kanakala, and Uttej also leave a strong mark.
Technical Excellence:
There is no need to mention that the songs have already chartbusters. Newcomer Pawan's music is the main pillar of this film. The background score is also terrific.
Cinematographer Vijay C Kumar captures the moments neatly. The production design is apt.
Highlights:
Naga Chaitanya's performance
Sai Pallavi's magic
Emotional moments
Music
Drawback:
Hurried climax
Slow-pace
Analysis
Addressing caste discrimination has become a regular feature in Tollywood lately. Not completely moving away from his style of presenting sensible love stories, director Sekhar Kammula touches upon two important issues – caste discrimination and sexual abuse.
"Love Story", starring Naga Chaitanya and Sai Pallavi, as the title says, is a love story but is not a chirpy drama as Kammula's previous film "Fidaa" was. It is more of a serious film, with a realistic approach.
"Love Story" begins on a somber note. It takes a while to get into the groove. The film picks up when Sai Pallavi grooves to the song "Evo Evo Kalale..Tara Ram Pam" in a gay abandon. Sai Pallavi mesmerizes with her dance steps in this song. Even from the narrative point, it sets the tone for the rest of the romance.
Their romantic thread cutting from Hyderabad to Armoor engages us. There are simple, yet beautiful moments here.
After engaging in romantic drama in the first, the film comes to the core point of the issue. The class differences come to the fore, and the movie turns into a serious drama. However, in a sudden jolt, the penultimate portion deals with another issue (sexual abuse).
While the climax makes our hearts heavy, it also gives the feeling that the director has suddenly changed the tone. The climax portion makes different from the other regular movies that have dealt with caste issues like 'Uppena', 'Sridevi Soda Center, etc. But care should have been taken for better results. There is a hurried feeling.
The second issue that is dealt with in the film may not be palatable to a section of the audience. However, Kammula took a risk.
Sekhar Kammula's films always suffer from bloating. Sharp editing has never been his strength. "Love Story" also does have this drawback. This is the reason why the film loses grip in the middle portion.
But Sekhar leaves his mark with some terrific scenes – like Sai Pallavi slipping her tongue about Chaitanya's caste and her love proposal, sanitary pad episode, sequences with Easwari and Naga Chaitanya stand out.
All in all, despite slow narration, "Love Story" scores high on excellent performances from the lead pair, music, and some emotional sequences. But if you are looking for a cheerful romantic comedy, you might be disappointed. It is a sensible romantic drama with two important issues. Watch it for music, and the lead pair.
Bottom line: Captivating music and Sai Pallavi's magic