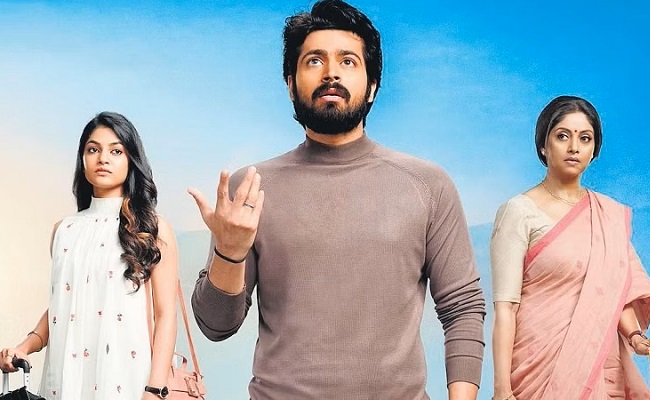 Movie: LGM
Rating: 1.5/5
Banner: Dhoni Entertainment
Cast: Harish Kalyan, Nadiya, Ivana, Yogi Babu, RJ Vijay, and others
Cinematography: Viswajith Odukkathil
Editing: Pradeep E Ragav
Produced by: Sakshi Singh Dhoni, Vikas Hasija
Story, Screenplay, music and Direction: Ramesh Thamilmani
Release Date: Aug 04, 2023
MS Dhoni, one of the greatest cricketers of all time, has ventured into film production, with his wife producing "LGM" as their first film (made in Tamil). Today, the film was released in Telugu. This is the only noteworthy film playing this weekend.
Let's see if Dhoni's production house makes a good first start.
Story:
Gowtham (Harish Kalyan) and Meera (Ivana) work together and have been dating for over two years. When Gowtham finally proposes to her, she readily accepts, but with a condition. Meera wishes to spend a few days with Gowtham's mother (Nadiya) in order to better understand her so that she will not have problems with her mother-in-law after their marriage.
Gowtham agrees to this strange proposal and plans a trip to Coorg. He hopes that his mother and Meera will get along well during their stay at the Coorg resort.
Will it, however, go smoothly? What will Gowtham's mother think of Meera, with whom she previously had an awkward incident?
Artistes' Performances:
Harish Kalyan has looks, but his acting is nothing to write home about. In the film, he appears completely clueless. Ivana, who wowed with her performance and beauty in "Love Today," doesn't get any marks either.
Nadiya is the film's only saving grace. In her role as the hero's mother, she does her best to make the proceedings bearable. Yogi Babu's comedy is stale here.
Technical Excellence:
The songs in the film, which were also composed by the director, are totally bad. Songs are important in rom-coms, but the music in this film is subpar. The cinematography is just okay. Nothing noteworthy work is noticeable from any technician.
Highlights:
Central idea
Drawback:
Boring sequences
Immature narrative
Outdated jokes
Too much of lag
Analysis
When the heroine comes to stay with the hero's family for a week in "Bommarillu," the idea seemed novel and resonated with family audiences. Nearly 18 years after "Bommarillu," "LGM (Let's Get Married)" arrives with a central theme that has the potential to resonate with family audiences.
The central idea is that the heroine wants to spend a few days with her future mother-in-law to see if they will get along. However, the screenplay and direction are both terribly bad.
It doesn't take much time for us to understand that the director Ramesh Tamilamani (who not only handled screenplay and direction but also music) lacks narrative skills. He doesn't know how to take the film's idea forward. His direction is totally amateur.
Not a single scene in the film resembles reality. The hero and heroine's office scenes look more like a college than an office. The so-called humorous scenes with the hero's colleagues are farcical.
The film becomes extremely boring due to forced humor and artificiality in every situation. The bus ride from Hyderabad to Coorg is nearly 30 minutes long, which tests our patience.
The so-called jokes about a diabetes patient requesting that the driver (Yogi Babu) stop the bus frequently for a urine break demonstrate that all of these attempts are made to fill the runtime.
Even in the second half, the sequences involving Nadiya and Ivana are useless. Another farce is the film's climactic fight with a tiger.
It's unfortunate that Dhoni's wife made her debut with such a mediocre and boring romantic drama that offers nothing to anyone. This is a bad start for Dhoni and his wife because they were duped by a director who lacks narrative skills. For us, it's boring.
Bottom line: Mediocre