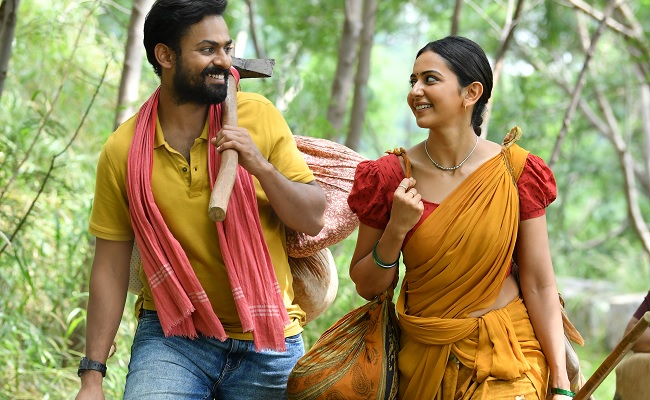 Movie: Konda Polam
Rating: 2.5/5
Banner: First Frame Entertainments
Cast: Panja Vaisshnav Tej, Rakul Preet Singh, Sai Chand, Nazar, Kota Srinivasa Rao, and others
Story: Sannapureddi Venkata Rami Reddy
Music: MM Keeravani
Cinematography: Gnana Shekar VS
Editor: Shravan Katikaneni
Art: Raj Kumar Gibson
Costumes: Aishwarya Rajeev
Fights: Venkat
Producers: Saibabu Jagarlamudi and Rajeev Reddy
Director: Krish Jagarlamudi
Release Date: October 8, 2021
Director Krish has been exploring various genres. The trailer of "Konda Polam" proved that he has chosen an altogether different subject and genre this time. With 'Uppena' fame Vaisshnav Tej starring in it, the film looked even more interesting.
Let's find out its merits and demerits.
Story:
At the interview session of the UPSC exam, the team of officers ask aspirant Ravindra Yadav (Vaisshnav Tej) why he opted for IFS (Indian Forest Service) even after scoring better marks. They ask him to tell them about his story. The film then goes back to the Nallamala forest region, his native place.
Ravindra Yadav could not secure a job in any IT company in Hyderabad even after trying for four years. He lacks confidence and communication skills. He goes back to his village, which is facing drought.
To save the livestock, his father and other members of the village go to Konda Polam for 40 days. Obulamma (Rakul Preet Singh), also accompanies them. Deep in the forest Ravindra Yadav and other shepherds encounter some toughest conditions.
How does the 'Konda Polam' experience transform timid Ravindra into a confident guy is all about the story...
Artistes' Performances:
The film boasts of some good acting from actors like Sai Chand. The lead actor Vaisshnav Tej has given a believable performance as Yadav who is the pivot around this coming-of-age story. He is natural.
Rakul Preet is not convincing in the role of Obulamma. She lacks the nativity in her face and body. Kota Srinivasa Rao, Raviprakash, Hema, and other actors have done their parts well.
Technical Excellence:
MM Keeravani's music (two songs in particular) has enhanced the film. Cinematographer Jnanasekhar captures lush green forest visuals and the fight sequences with tiger captivatingly to some extent. Editing and production design is neat.
Highlights:
Different concept
Songs
Ambience
Drawback:
Lack of emotions
Slow pace
Weak story
Analysis
"Konda Polam" is an adaptation of Sannapureddi Venkata Rami Reddy's award-winning novel of the same name. The film deals with the life of a shepherd, the issue of communication skills that rural youngsters grapple with, and showcases the little-known aspect of 'Kondapolam' (forest grazing) in Nallamala forest in Andhra Pradesh.
The adventures of shepherds venturing into a hilly forest region to feed their cattle is an entirely new concept. Such a story has never been explored on the screen.
The hardships of shepherds during famine are narrated in this film. The story and dialogues are written by Sannapureddi Venkata Rami Reddy but director Krish has written the screenplay to make it an adventurous thriller.
We have seen films that explored drought conditions but this story talks about them in a different manner. The problems of a youngster suffering from low self-esteem and lack of proficiency in English are juxtaposed with life in wild terrain.
When a shepherd takes his livestock deep into the forest, he may have to search for water bodies, save the sheep from wild animals like tigers anticipating attacks, keep an eye on smugglers and walk for days without any comforts and sufficient supply of food.
Such an aspect of shepherds in the Nallamala region is not known to us as we have never come across it on screen or in the media. In that way, "Konda Polam" is entirely different.
But is that enough to engage us in the movie hall?
The film definitely has a new story and backdrop. It also gives insight into how the protagonist draws inspiration and strength from the experiences of his 40-day Kondapolam journey to apply them in clearing the UPSC exam. But the graph of the film is straight. Except for the two scenes, there is no rise in the dramatic curve.
While the film talks about drought conditions, the forest and the entire screen are filled with lush green. The audience doesn't feel the 'famine' situation. The so-called adventure in the forest is peripheral. Barring facing the tiger, the hero doesn't have many adventures to do. So, the 'adventure' actor also gets discounted.
Actor Ravi Prakash's long phone call with his wife is like a monologue which serves no purpose. Though the actor brought out his abilities, the scene holds no value in the flow. It's forced.
Certain scenes like the hero overcoming his fear in saving an injured sheep as Tiger is trying to attack him are shot well but the sentiment around it is not needed. After all, the shepherds take care of their sheep only to sell for meat.
The film would have been more engaging had it focused on more emotional sequences. The battle with the tiger doesn't convince us. Poor graphics in the climax portion are jarring.
All in all, "Kondapolam" has a unique story and concept that has never been explored. The attempt is appreciable, but it runs at a sluggish pace and doesn't make an engaging watch. It lacks elements that appeal to a wider audience.
Bottom-line: Unexciting shepherd story
Click Here for Latest Direct-to-OTT Releases (List Updates Daily)