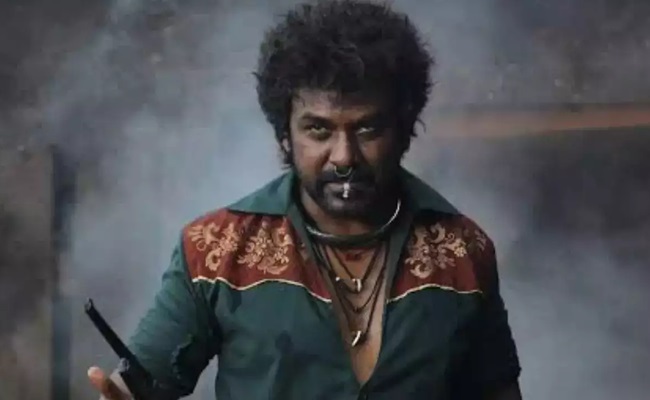 Movie: Jigarthanda Double X
Rating: 1.75/5
Banner: Stone Bench Films, Five Star Creations
Cast: Raghava Lawrence, S. J. Suryah as Ray Dasan, Shine Tom Chacko, Nimisha Sajayan, Naveen Chandra, Sathyan, Aravind Akash, Ilavarasu, Bava Chelladurai, and others.
Music: Santhosh Narayanan
DOP: S Thirunavukkarasu
Editor: Shafique Mohamed Ali
Stunts: Dhilip Subbbarayan
Art: Balasubramanian, Kumar Gangappan
Producers: Kaarthekeyan Santhanam, S Kathiresan
Written and Directed by: Karthik Subbaraj
Release Date: Nov 10, 2023
This Deepavali festival weekend, another dubbed movie hit the theatres. That is Raghava Lawrence and S J Suryah starrer "Jigarthanda Double X."
Let's find out it's highlights and demerits.
Story:
Caesar (Raghava Lawrence) is a notorious Kurnool gangster in 1970s. He hopes to be the first dark-skinned actor. Ray Dasan (SJ Suryah) approaches him, claiming to be Satyajit Ray's former assistant director and that he can make a film with him.
They plan a western (cowboy) film. As the filming progresses, Caesar's adversaries begin to track him down, causing a slew of issues. Also, why did Ray Dasan conceal his true identity, including his name and occupation, from Caesar? What are Caesar and Dasan's true intentions?
Artistes' Performances:
Raghava Lawrence is perfectly suited for the role of a rowdy aspiring to be an actor. Lawrence used the opportunity and gave a good performance.
SJ Suryah plays a role that has two shades, and his eccentric style has worked well for the role of Ray Dasan. His scenes with Lawrence in the latter half of the movie are good.
Naveen Chandra is okay. Shine Tom Chacko of "Dasara" fame does it neatly, while Nimisha Sajayan as Lawrence's wife is perfect.
Technical Excellence:
The film is technically sound. The cinematography and sound design are all excellent. Santosh Narayan's background score enhances several ordinary moments but it also is loud at many places.
The production design is good.
Highlights:
Technical aspects
Lawrence and SJ Surya's performances
Drawback:
Lengthy runtime
Slow narration
Too many themes
Concept
Analysis
"Jigarthanda Double X" serves as a sequel to the 2014 Tamil film "Jigarthanda," directed by Karthik Subbaraj. The original film was remade in Telugu as "Gaddalakonda Ganesh" by filmmaker Harish Shankar, starring Varun Tej.
Similar to its predecessor, the sequel revolves around two central characters: a movie director and a rowdy attempting to collaborate on a film. However, this 2023 installment delves into various themes and political aspects.
Set in the 1970s, the period backdrop and intricate exploration of politics contribute to a detailed narrative, slowing down the storytelling and extending the runtime.
"Double X" feels akin to watching two movies on a single ticket, addressing themes such as tribal life and their rights, power struggles, the underworld of gangsters, the influence of cinema, and more.
The initial sequences of "Jigarthanda Double X" serve as a test of patience, with minimal development and a chaotic storytelling approach. The second half presents a notable improvement, with a more coherent plot. Certain episodes are effective, and the climax scenes are well-executed.
The primary issue with "Double X" lies in its attempt to encompass numerous aspects within one plot, resulting in a slow-paced narrative with an extended runtime. Despite some commendable episodes, the overall storytelling becomes tedious.
Karthik Subbaraj showcases technical prowess in narration, but the film lacks originality, and there is a hint of potential for another sequel.
In summary, "Jigarthanda Double X" falls short of the first part and proves to be underwhelming.
Bottom line: Too Lengthy