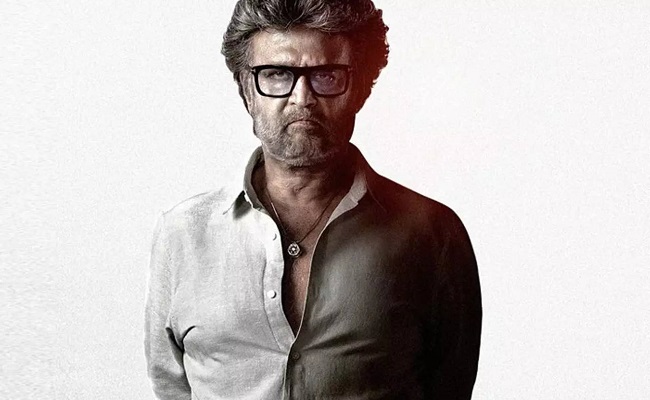 Movie: Jailer
Rating: 2.75/5
Banner: Sun Pictures
Cast: Rajnikanth, Mohan Lal, Jackie Shroff, Shiva Rajkumar, Sunil, Ramya Krishnan, Tamannaah, Yogi Babu and others.
Music: Anirudh
DOP: Vijay Kartik Kannan
Editor: R.Nirmal
Art: Drk Kiran
Action: Stun Siva
Presents: Kalanithi Maran
Produced by: Sun Pictures
Written and directed by: Nelson
Release Date: Aug 10, 2023
The recent speech by Rajinikanth, along with the trailer and songs, has collectively fueled the hype around "Jailer." The movie has garnered significant attention even in the absence of any Telugu promotion.
It remains to be seen if this film will signify Rajinikanth's resurgence in his career.
Story:
Varma (Vinayakan) leads a mafia gang that steals temple idols and sells them in other countries. Varma and his gang kidnap an ACP who has been studying and documenting this gang's operations for months. Muthu (Rajinikanth), the ACP's father and a retired police officer, is devastated by the news of his son's kidnapping and possible murder.
So Muthu decides to exact his vengeance by killing the gang members one by one. Varma, on the other hand, threatens to kill Muthu's wife (Ramya Krishna), daughter-in-law, and grandson.
How will Muthu save his family and also finish the mission?
Artistes' Performances:
Rajinikanth not only portrays a role that suits his age but also delivers an exceptional performance. Throughout the first half, his presence captivates the audience's attention. His smile, idiosyncrasies, and intensity are all portrayed brilliantly. He holds our complete focus until the intermission. His interactions with Yogi Babu also add to the entertainment.
Vinayakan portrays the villain's character with a menacing aura, even though the role itself follows a familiar pattern.
Ramya Krishna portrays the conventional housewife character, but unfortunately, she doesn't have any particularly engaging scenes.
Mohanlal, Jackie Shroff, and Shiva Rajkumar make cameo appearances. Tamannaah Bhatia also appears in a few scenes and a song. However, the song on screen doesn't match the impact it had in the trailers.
Technical Excellence:
The cinematography is superb. The cinematographer's capture of interior fight scenes deserves special mention. The production values are also impressive.
The film is held together by Anirudh's musical score, which includes both the background score and songs.
Highlights:
Superb first half
Rajinikanth's performance
Anirudh's musical score
Drawback:
Sunil's boring episode
Routine scenes in the second half
Slow-paced moments
Analysis
"Jailer" kicks off on a high note, with Rajinikanth portraying a mild-mannered retired police officer. When his son is kidnapped, Rajinikanth transforms into an angry old man, putting an end to the sequences depicting his simple domestic life. From this point on, the film becomes engaging.
Nelson has crafted some remarkable sequences for Rajinikanth. The introduction of Yogi Babu's character and Rajinikanth's utilization of this comedic persona for his mission to avenge the mafia gang's actions deserve praise. The standout moment is the fight scene within Rajinikanth's house, where his wife and daughter-in-law sit at the dining table.
As the intermission arrives, the impression is that the film will offer another riveting experience akin to Kamal Haasan's blockbuster action thriller "Vikram." Such is the excellence of the first half. Nelson adeptly employs action, comedy, and family moments, and the interval climax generates immense excitement for the audience.
However, the second half of "Jailer" takes a contrasting direction from the first. It adopts the formulaic approach often seen in mass-entertainers. The film features conventional episodes, such as Rajinikanth's flashback as a jailer, a comedy segment involving Sunil and Tamannaah, Tamannaah's item song, extended fight sequences, and so forth.
Regrettably, these moments not only adhere to the formula but also become tedious. Despite Tamannaah's song "Kaavaalaa" gaining viral popularity on YouTube, its impact in the film is diminished because it's filmed on Sunil and Tamannaah instead of being a duet with Rajinikanth and Tamannaah.
Similarly, even the episodes featuring other superstars like Shiva Rajkumar and Mohanlal function as standard heroism-elevating scenes rather than advancing the plot.
Nonetheless, the climax of the second half serves as its redeeming feature.
In summary, "Jailer" starts strong but concludes with an unpredictable climax. It presents a regular action drama with an impressive beginning and a lack of impact in the second half but a hitting end.
Bottom line: Star-studded One Man Show