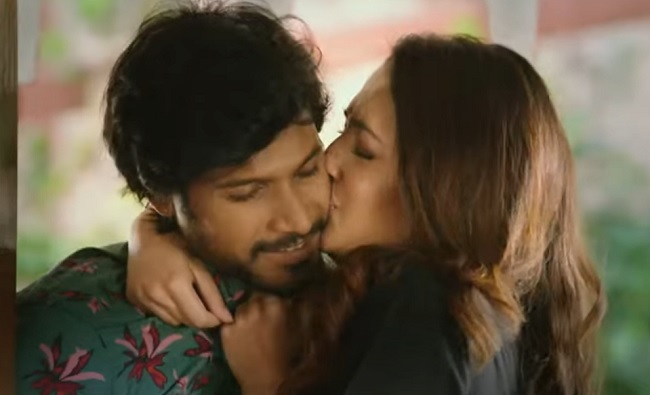 Movie: Gully Rowdy
Rating: 2.25/5
Banner: MVV Cinema and Kona Film Corporation
Cast: Sundeep Kishan, Bobby Simha, Neha Hariraj Shetty, Viva Harsha, Vennela Kishore, Rajendra Prasad, and Posani Krishna Murali. and others
Writers: Bhanu Bhogavarapu, Nandu
Cinematography: Sujatha Siddharth
Music: Sai Karthik, Ram Miriyala
Editor: Chota K Prasad
Producers: MVV Satyanarayana, CV
Screenplay-Direction: G Nageswara Reddy
Release Date: September 17, 2021
Sundeep Kishan has teamed up with director G Nageswara Reddy once again after 'Tenali Ramakrishna BA BL'. The trailer promised some good laughs.
Has the film kept the promise? Find out…
Story:
Vasu (Sundeep Kishan) comes from a family of violent men. His father was rowdy. His grandfather's (Nagineedu) wish is to see Vasu as a rowdy as well.
Meanwhile, Head Constable Pattapagalu Venkat Rao's land is grabbed by Vizag's dreaded don Bhairagi, and his daughter (Neha Shetty) seeks the help of Vasu. As he is loving her, he reluctantly agrees to their plan of kidnapping Bhairagi.
Vasu comes with a perfect plan for this. But their plan goes kaput when an unknown assailant kills Bhairagi. Police officer Naik (Bobby Simha) begins the investigation. How do Vasu and his girlfriend and her family escape from this mess?
Artistes' Performances:
Sundeep Kishan has donned a tapori role. He gets to play some mass moments. Nothing much beyond that! But it is Rajendra Prasad who steals the moments.
Neha Shetty as the heroine gets a typical role. Harsha Chemudu is repeating the same act. Bobby Simha brings nothing much to the board.
Technical Excellence:
Ram Miriyala's song is an attraction, but the remaining songs are passable. The cinematography is decent. The writing and the dialogues are typical of Kona's style.
Highlights:
A couple of jokes
'Puttene Prema' song
Drawback:
Weak narration
Drags on and on
Outdated comedy
Cliched final portions
No originality anywhere
Analysis
Director G Nageshwara Reddy's brand of comedies has stopped striking a chord with the new generation of audiences long back. "Gully Rowdy'' is another proof that he is not even attempting to reinvent his style. With a story that lacks freshness, with formulaic scenes, he is continuing to present them in his school. He is not tired of them, but we are.
When the hero of "Gully Rowdy" is introduced as a person who is carrying their family's legacy, it doesn't evoke a laugh. We squirm at the idea.
When a head police constable refuses to report to his bosses as his land is grabbed by a rowdy, we laugh at the writer's archaic thoughts.
Such illogical ideas would have worked well a decade ago, but not today. One may not expect logic in comedies, but the comedy should be roaring enough to ignore such issues. "Gully Rowdy" neither offers a contemporary story nor laugh riot.
The film begins on a dull note and goes on in an outdated narrative. A whole stretch of comedy is made out of Rajendra Prasad and his family discussing the possibility of kidnapping the city's don. Viva Harsh is a software professional, but he is always seen by the side of his friend who roams on the roads. Luckily, a couple of jokes have worked out in pre-interval. That's it.
With such sparse comic sequences, how did director Nageshwara Reddy think of holding our attention?
The investigation process and Sundeep Kishan revealing a new twist in the second half have also failed to save the film.
All in all, it is an outdated potboiler that is totally avoidable. Although Sundeep Kishan and Rajendra Prasad have put in their best efforts, the movie tests our patience.
Bottom-line: Silly Rowdy
Click Here for Latest Direct-to-OTT Releases (List Updates Daily)