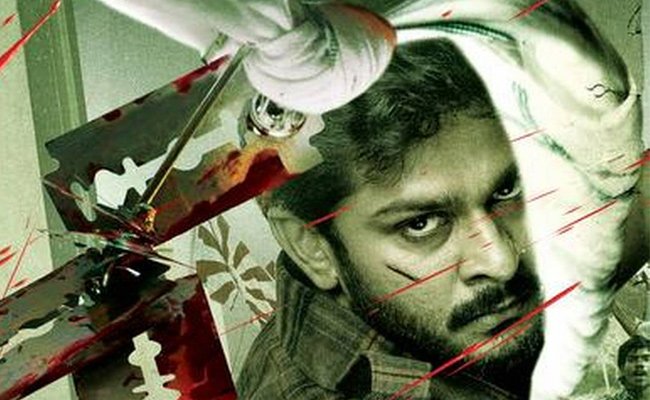 Movie: George Reddy
Rating: 2.5/5
Banner: Three Lines
Cast: Sandeep Madhav, Muskaan, Abhay Bethiganti, Satyadev, and others
Music: Suresh Bobbili
Cinematography: Sudhakar Yakkanti
Editing: J Prathap Kumar
Producer: Appi Reddy
Written and directed by: Jeevan Reddy
Release date: November 22, 2019
A brilliantly-edited single trailer is enough to generate hype for any film these days. 'George Reddy' is another example of this trend.
The film has been making a lot of buzz since the release of its teaser and trailer. This is a biopic of a student leader who had won cult figure status.
Let's find out whether the film lives up to the hype.
Story:
The story begins with Muskaan, a student in the USA, coming to Hyderabad for her documentary film and interviewing various people who know about George Reddy, a student leader of the 1970s. He was killed at the age of 25. His story is unravelled through her interviews.
As soon as George Reddy (Sandeep Madhav) enters into Osmania University as a science student, he bashes up students who rag others. He also teaches a lesson to the students who have feudal mentality and illtreat juniors based on their caste.
Soon, George Reddy becomes a leader. He is completely caught in student politics though he is topper in the studies and gets a call from Bombay University.
Who killed him and what forced them to take such a step is revealed in the rest of the story.
Artistes' Performances:
Sandeep Madhav fits perfectly in the role of George Reddy. He has got the perfect demeanour. Abhay Bethiganti as his friend gets a lengthy role.
Satya Dev's role is poorly written. Muskaan as a girl student who admires George Reddy is okay. Chaitanya Krishna and Shatru are neat in their roles.
Technical Excellence:
Production design and technical output are first-rate for a small-budgeted movie. Art director Gandhi has recreated the exterior of Osmania University that is believable. The locations chosen for the shoot are apt.
Cinematography by Sudhakar Yekkenti is excellent in some sequences. Background score and songs are a huge plus to this movie. However, the editing is patchy, as many scenes end abruptly.
Highlights:
A couple of sequences
Background score
Action Scenes
Drawback:
Focusing on petty issues
Clichéd student wars
No emotional impact
Lack of consistent drama
Analysis
This is a trend of biopics in Tollywood. 'George Reddy' has gained attention with its teaser.
The name of 'George Reddy' is pretty known to many, his life story has inspired many filmmakers to include scenes in their films: RGV's 'Shiva', Tammareddy's 'Alajadi' to Mani Ratnam's 'Yuva' (Suriya's character is inspired by George Reddy). Such a powerful personality, a cult figure he was. There was heroism in his life.
The symbol of 'fist' and Leftist student union PDSU were his brainchild. He was a gold medallist in science, Che Guevara and Bhagat Singh were his inspiration, he taught students how to raise the voice and question the system. There is so much in his life that works effectively on screen.
Director Jeevan Reddy has begun the story well by bringing a documentary filmmaker into the screenplay to narrate the story of George Reddy ('Mahanati' influence?).
He gives George Reddy a heroic introduction and establishes the student politics, how he started involving in fights, his basic violent nature from childhood (he kept blade with him always even when he was a kid). There is also a solo song on the heroine. And the politics and groups of the university unfold.
The initial portions go well to establish the life of George Reddy.
But as the movie progresses, it becomes clear that Jeevan Reddy's writing lacks strength. It doesn't move further, except talking about the same student politics, petty fights, and random speeches.
Some scenes give us the feeling that the director has failed to translate his ideas on to the screen. The scenes give us a hint about his intent but they have turned out to be ineffective with poor narration.
As the movie prolongs, it becomes clear that there is no emotional connect. Also, the predictability steps in. In a way, this may be an official biopic of George Reddy but much of his life story already exists in our movies in various forms. So, his fight, his speeches, his story don't arouse us. Added to that, Jeevan Reddy's narration is quite dull.
Characters like Satya Dev are poorly drafted and they end abruptly. Also, the real politics in George Reddy's life is narrated with a coat to avoid censor problems. Thus, the film lacks effectiveness, doesn't connect with the audiences at all.
But the film really offers some good sequences and fights, like a belt fight and interval bang.
Despite some brilliant moments and excellent cinematography and background score, 'George Reddy' doesn't make a gripping watch.
It becomes another attempt to tell student politics that we have already seen in many movies. Another missed opportunity, another biopic that fails to connect.
Bottom-line: Fist Fight!
Click Here for Latest Direct-to-OTT Releases (List Updates Daily)