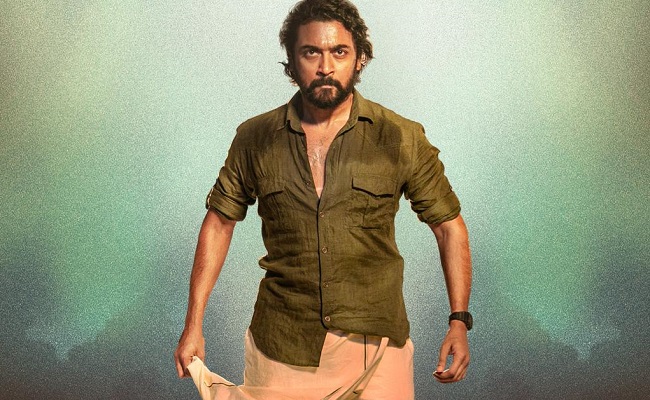 Movie: ET - Evariki Thalavanchadu
Rating: 1.5/5
Banner: Sun Pictures
Cast: Suriya, Priyanka Arul Mohan, Vinay Rai, Soori, Sathyaraj, Saranya Ponvannan, and others. Music: D Imman
DOP: R. Rathnavelu
Editor: Ruben
Fights: Ram-Laxman, Anbariv
Producer: Sun Pictures
Directed by: Pandiraj
Release Date: March 10, 2022
Suriya's recent two movies - Aakasham Nee Haddhu Ra and Jai Bhim – could not make it to the theatres, as they opted for OTT platforms. Nearly after three years, a Suriya starrer has come to the theaters. "ET Evariki Thalavanchadu" hit the theaters today.
Let's find out its merits and demerits.
Story:
Krishna Mohan (Suriya) is a lawyer in a village near Chittoor. Like in most of the Tamil movies, his villagers have problems with the adjacent villagers.
Kaamesh (Vinay Rai), son of a Minister and businessman, lives in the other village, and he preys on young women. He blackmails the women by recording them when they are intimate with their boyfriends.
When a girl seeks the help of Krishna Mohan and informs him about Kaamesh and his gang's activity, he takes the issue into his own hands.
How will Krishna Mohan remove the weeds of society?
Artistes' Performances:
Suriya has returned to the regular commercial film genre after a long gap. He does the role effortlessly. Suriya holds the film.
Priyanka Arul Mohan has done a good job in a scene in the second half. Vinay Rai is just okay. Sathya Raj and Saranya Ponvannan play typical parents.
Technical Excellence:
Rathnavelu's camera is nothing extraordinary but he captures the rural scape in his style. D Imman's songs are forgettable. After 'Annaatthe', Imman has come up with another formulaic output.
Highlights:
Message of the film
Suriya
Drawback:
The silly and boring first half
Formulaic narrative
Tamil sentiment scenes
Songs
Analysis
Suriya's recent outings won high praise from one and all. Rich in content and with strong performances, Suriya set a bar high for himself with those two movies. Since he missed the theatrical run for nearly three years, the actor has played a safe game of selecting a typical Tamil rural movie.
"ET Evariki Talavanchadu" ticks all boxes of such rural mass entertainers that we get to see from Kollywood.
While the film is about an important issue – women becoming victims due to video recording, the first half of the film goes in a boring manner. It devotes itself to Suriya and Priyanka's love track and problems between the two villages. The treatment in the first half of the film is so clichéd and headache-inducing.
According to the media reports, the story is based on real-life incidents that took place in Tamilnadu. Besides highlighting the problem, the director tries to resort to overt sentiment, which puts you off.
The best part of the film is Priyanka Arul Mohan coming forward to speak about her video bravely and Suriya standing beside her. Despite the social message, "ET" has many unbearable issues. It is hard to sit and watch the proceedings for nearly two and half hours.
The comedy, the rural setup, the action, the over sentiment scenes remind us of another recent mediocre Tamil movie, Rajinikanth's "Annattthe".
First and foremost, it is too formulaic, and the Tamil-flavoured comedy falls flat. The entire episode of Suriya and Priyanka trying to get married in an Utsavam is an example of lousy writing. Besides this silly comedy, the film tries to emotionally blackmail the audiences with overt sentiments.
Some lousy and badly-made masala Telugu movies are way better than this typical mass movie. The message and Suriya's acting are good, but the other issues outweigh them and make 'ET' a boring watch.
Bottom line: 'E'xtremely 'T'asteless