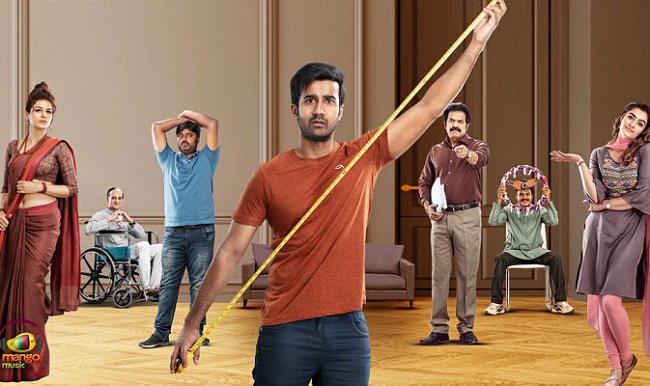 Movie: Ek Mini Katha
Rating: 2.5/5
Cast: Santosh Shoban, Kavya Thapar, Shraddha Das, Brahmaji, Sudharshan, Sapthagiri, Posani Krishna Murali, and others
Written by: Merlapaka Gandhi
Cinematography: Gokul Bharathi
Music: Praveen Lakkaraju
Editing: Satya G
Produced by: UV Concepts
Direction: Karthik Rapolu
Streaming on: Amazon Prime Video
Release Date: May 27, 2021
The trend of concept-based movies releasing directly on OTT platforms is continuing. The latest Telugu film that has premiered on Amazon Prime video is UV Concepts produced "Ek Mini Katha".
Let's find out its merits and demerits.
Story:
Santosh (Santosh Shoban) is a civil engineer and suffers from an issue that cannot be shared with anyone. From his schooldays, he starts believing that he has a small 'size'. This becomes a big problem for him and he cannot concentrate on anything if someone utters words like 'small' or 'big'.
Herbs, internet medicines, and whatnot, he tries everything to find a solution. He even agrees to 'p*nis enlargement surgery' but it doesn't take place due to a funny incident.
Things turn complicated when his parents fix an alliance with Amrutha (Kavya Thapar). He also finds himself falling in love with her. How will he get a solution to his 'big' problem?
Artistes' Performances:
The male ego doesn't allow for actors to accept such roles. But upcoming actor Santosh Shoban has not only shown confidence in taking up this but he also effortlessly played it. It is a simple role of a youngster but the 'problem' is what makes it unique. And Santosh has nailed it confidently. Kavya Thapar is good as his fiance.
Sudarshan as Santosh's friend provides much comic relief and helps drive the story. Brahmaji as Santosh's father gets a meaty role. Shraddha Das appears in a 'mini' role. Saptagiri's role is hilarious. Harsha Vardhan as a psychologist adds some value.
Technical Excellence:
Shot on a limited budget, the film has decent production and technical values but none of them deserve special mention except the dialogue writing. Dialogues are funny at places.
Highlights:
Bold Concept
Humorous scenes in the beginning
Drawback:
Extended reception sequence
The first-night comical farce
The slow pace of narration
Analysis
Telugu films have lately been exploring 'taboo' subjects. The new-age filmmakers are packaging these topics in a way that is palatable for larger audiences.
"Ek Mini Katha" talks about a hero suffering from a problem that has rarely been discussed on screen. The hero believes his penis is too small.
Until now, no Indian movie has explored this subject as the main plot. "Ek Mini Katha" daringly reaches there. This is a delicate point, and it is also a challenge to any filmmaker because if the writer and director raise the joke any 'inches' higher, it would turn into a porn movie.
Commendably, writer Merlapaka Gandhi and director Karthik Rapolu have succeeded in acceptably telling the taboo subject till the first half.
Perhaps, they have taken inspiration from Hindi movies like Ayushmann Khurrana starrer "Vicky Donor" and "Bala". In fact, the thread of the protagonist hiding his 'problem' with his girlfriend has similarities with "Bala".
The 2 hours 13 minutes of runtime looks too long for this thin story due to the formulaic scenes in the second hour.
The film begins well but goes in the wrong direction as it progresses. It also takes too much liberty to stretch the point. The entry of Shraddha Das is an example. The scenes are not at all believable, they look forced and contrived.
The later portions truly have all kinds of farcical situations. The movie needed a shorter runtime. Size does really matter in such cases!
All in all, "Ek Mini Katha" explores a taboo subject and narrates it with a dose of humor but it also suffers from many small and big problems along the way. It finally falls into the trap of a regular template and turns into a boring affair.
Bottom-line: Bold but not beautiful