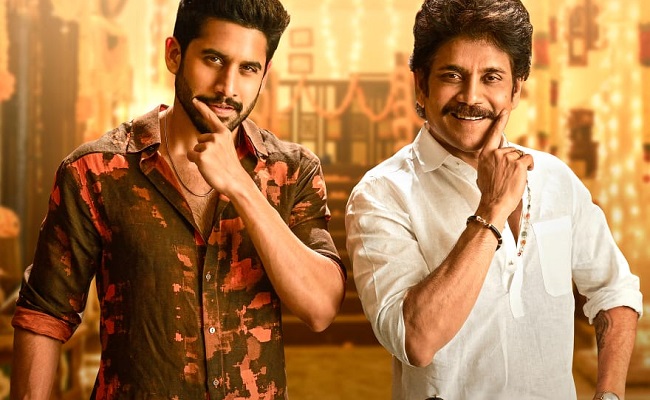 Movie: Bangarraju
Rating: 2.5/5
Banner: Annapurna Studios, Zee Studio
Cast: Nagarjuna Akkineni, Naga Chaitanya, Ramya Krishna, Krithi Shetty, Rao Ramesh, Faria Abdullah, and others
Screenplay: Satyanand
Music: Anup Rubens
Director of Photography: Yuvaraj
Editor: Vijay Vardhan K
Art: Brahma Kadali
Producers: Akkineni Nagarjuna & Zee
Written and directed by: Kalyan Krishna Kurasala
Release Date: Jan 14, 2022
"Bangarraju" is the first big release in 2022, and also marks the combination of father-son duo Nagarjuna and Naga Chaitanya after "Manam". The film created a lot of hype and buzz with its promotions.
Let's find out whether it meets the expectations.
Story:
'Soggade Chinni Nayana' ends with Bangarraju (Nagarjuna) entering his son Ramu's soul and rescuing him from the villain. This sequel focuses on his grandson Chinna Bangarraju (Naga Chaitanya), son of Ramu. Chinna Bangarraju's grandmother Sattamma (Ramya Krishna), the wife of Bangarraju, also passes away.
Before her death, Sattamma wanted her grandson Chinna Bangarraju to marry Nagalaxmi (Krithi Shetty). Nagalaxmi becomes president of their village, and Chinna Bangarraju frequently quarrels with her. So, on the insistence of Sattamma, the grandfather's soul enters the body of Bangarraju Jr to help them get together.. The drama begins.
Artistes' Performances:
Nagarjuna lets his son Naga Chaitanya dominate the show. Nagarjuna has less screen time but gets an impactful presence. Naga Chaitanya is the real 'hero' of the film, and he gives a decent performance in a role that needed him to be bombastic.
Ramya Krishna lends her able support in a minor role. Krithi Shetty as a village girl Naga Lakshmi is okay. But her romantic track with Naga Chaitanya lacks effectiveness.
Faria Abdullah and Daksha Nagarkar appear in songs and make their presence felt. The comedy scenes involving Brahmaji and Vennela Kishore are outdated.
Technical Excellence:
Anup Rubens has given a couple of hit songs. "Vasi Vadi Tassadiya" is catchy. The song shot on Naga Chaitanya and Faria Abdullah is an eye feast.
The other technicians have put in the very ordinary effort.
Highlights:
Nagarjuna – Naga Chaitanya's scenes
Songs
Drawback:
Routine story
Dull first half
Cliched narration
Lack of comedy
Analysis:
"Bangarraju" is a sequel to the 2016 film 'Soggade Chinni Nayana' that starred Nagarjuna and Ramya Krishna in the lead roles. The sequel also follows the same path. Not many additions have been added to the story. In fact, it is like a rehash of the same story. The grandson of Bangarraju is also a flirt.
In the original film, Bangarraju comes back in the form of a soul to help his son. He does the same, but this time to help his grandson. Even the villain (Sampath) is the same. It is like watching the new version of "Soggade Chinni Nayana".
But "Soggade Chinni Nayana" had many fun moments. The track between Nagarjuna and Lavanya was entertaining. Bangarraju as a rural Casanova was in elements in that film. "Soggade Chinni Nayana" was a well-packaged family entertainer.
But the latest version is lacking such entertainment. The entire first half of the film gives a feel of a rushed product. The extended comedy track on Krithi Shetty as a village president fails to evoke laughs at all.
Nearly 20-minute of the runtime is devoted to a 'Veeri Veeri Gummadi' game between Naga Chaitanya and Kriti Shetty, which is supposed to be a romantic track. Many such scenes tell us that the makers have just filled the runtime with random scenes.
The film only gets its groove when Nagarjuna and Naga Chaitanya appear together in the frame. Thankfully, the film has its moments in the second half. The final portion saves the day to some extent.
Director Kalyan Krishna has not even tried to package the clichéd plot in a contemporary way. Hence, "Bangarraju" turns out to be a routine family entertainer.
We need to watch out how the festival period would help the film at the box-office.
Bottom line: Tassadiyya!