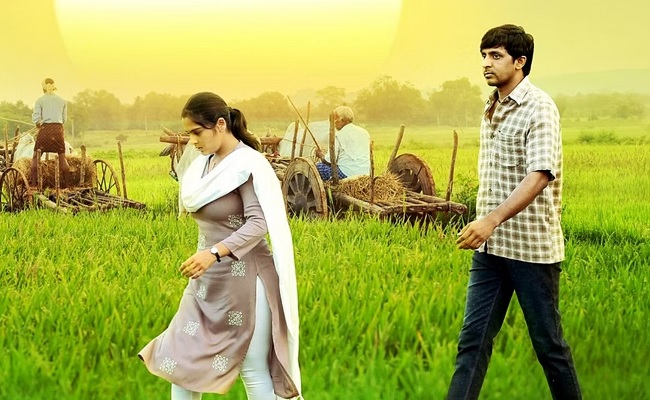 Movie: Balagam
Rating: 2.75/5
Banner: Dil Raju Productions
Cast: Priyadarshi, Kavya Kalyanram, Sudhakar Reddy, Muralidhar Goud, Jayaram, Roopa Lakshma, Venu and others
Music: Bheems Ceciroleo
DOP: Acharya Venu
Editor: Madhu
Presented by: Shirish
Producers: Harshith Reddy, Hanshitha Reddy
Direction: Venu Yeldandi
Release Date: March 03, 2023
Dil Raju, one of India's most prominent producers, has decided to present content-driven micro-budget films. His daughter and nephew produced "Balagam," a film set in rural Telangana with a unique concept.
Let's find out if they were successful...
Story:
In a village in Telangana, a family head Komarayya (Sudhakar Reddy), full of life and vigour, passes away unexpectedly. Sailu (Priyadarshi), his grandson (the son of his eldest son), is in debt and believes that getting married and receiving dowry money will help him pay it off. Sailu's engagement has been put on hold due to the passing of Komarayya.
Komarayya's younger son, who currently resides in Surat, and his daughter, who stopped visiting their family due to a minor issue many years ago, both attend the funeral. Traditionally, pindam is offered on the third day after a death. When a crow lands on the food, that's when the family finally packs up and goes home.
Crows arrive, but not a single one touches the pindam. Will the family members put aside their differences in order to bring peace to the soul of the deceased?
Artistes' Performances:
Each performer is at his or her most authentic. They give very grounded and natural performances. Priyadarshi is completely in character and plays to his strengths.
Kavya Kalyanram is an ideal 'maradalu' for the hero. When family patriarch Komarayya, played by Sudhakar Reddy, makes an appearance early on, he immediately becomes the source of numerous humorous moments. Muralidhar Goud, Jayaram, and Roopa Lakshmi's believable performances add credibility to the story.
Technical Excellence:
Bheems Ceciroleo, better known for his mass beats in the recent blockbuster 'Dhamaka', adds entirely new flavour. His music here has a distinct style because of its cultural foundations. The mood is enhanced by Bheems' music.
Acharya Venu's effective "palletooru" vignettes are another asset. On the other hand, the editing could have been sharper. The overwhelming number of similar sequences makes the experience feel a bit irritating after a point.
Highlights:
Initial humorous sequences
The pindam-kaki concept
Natural performances
Drawback:
Slow narration
Repetitive scenes
Melodramatic last portion
Analysis
Typically, Tamil and Malayalam filmmakers weave stories that pay tribute to their regional roots and ethos. Venu Veldandi, known in films as comedian Tillu, presents a story in a similar vein and with a strong conviction in his debut directorial effort, "Balagam." Set in rural Telangana, the film essentially conveys the message that families should stand together, but the setting, narrative, and treatment are all very different from regular commercial Telugu films.
The family head dies a few minutes into the story, and the film deals with the events that follow his death. Venu narrates the story with dark humor at times, beautifully capturing many sequences that depict rural life.
The sight of rural women sobbing as everyone enters the house to pay their last respects to the deceased is a poignant moment, while Priyadarshi and his bride-to-be secretly romancing while the dead body is in their home is a lighter moment in this dark comedy approach.
The beginning of the sequences appears to be purposefully humorous, whereas the latter part of the story is all about sentiments and tear-jerker moments. No Telugu film has dealt with the concept of crows not touching the food left for the departed soul (a ritual in most Hindu families), and Venu Yaldandi succeeds on this front, revealing ugly scenes of how some family members cannot hide their egos even after the loss of a family head.
The director also handles the singing troupe called for the death ceremony quite well. "Balagam" succeeds because of its raw moments and witty sequences.
However, like most new directors, Venu seems to have lost judgment about the film's duration. His obsession with capturing the minutiae of rural life and family egos is frustrating, as many sequences are repetitive. The emotional drama would have had a greater impact if he had made the film in a shorter and more compact format.
Overall, "Balagam" is a grounded story told in an honest and earthy manner. With the exception of flaws such as repetitiveness and excessive runtime, the film is enjoyable to watch once we become acquainted with the setting and characters. It should not be seen in a regular commercial movie way.
Bottom line: Non-Commercial