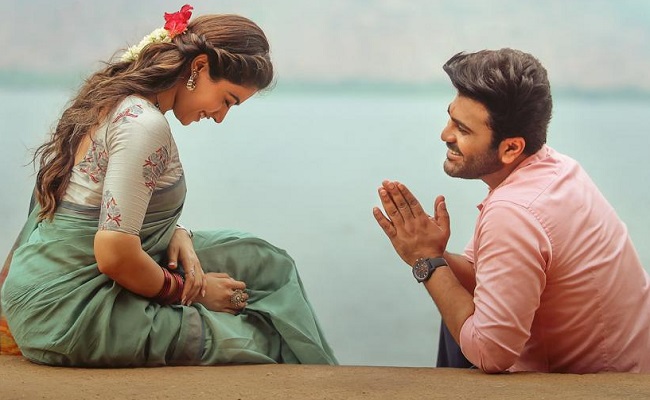 Movie: Aadavallu Meeku Johaarlu
Rating: 2.5/5
Banner: SLV Cinemas
Cast: Sharwanand, Rashmika Mandanna, Khushbu, Radhika Sarathkumar, Urvashi, Vennela Kishore, Sathya, Pradeep Rawat, Jhansi, Sathya Krishna and others
Music: Devi Sri Prasad
Cinematography: Sujith Sarang
Editor: Sreekar Prasad
Producer: Sudhakar Cherukuri
Written and directed by: Kishore Tirumala
Release Date: March 4, 2022
It has been a long time since we have seen a family entertainer. Hence, "Aadavallu Meeku Johaarlu" has become a talking point, as the trailer and promos ticked all points. The film has generated a lot of buzz and a positive feel.
Let's find out if it succeeds in meeting the expectations.
Story:
Chiranjeevi/Chiru (Sharwanand) is the only male child in their joint family. They live in Rajamundry city. His mother and aunts pamper him. They love him so much that they reject all the alliances that come to him, waiting for a perfect bride.
As he crossed 35, Chiranjeevi is desperate to get married. Chiranjeevi meets Aadya (Rashmika), a lawyer, and gets attracted to her. They develop a bond after meeting many times.
One day, she reveals that she cannot marry him as her mother Vakula (Khushbu) would not allow their marriage? Why is Vakula against the institution of marriage, and what step Chiranjeevi would take?
Artistes' Performances:
Sharwanand has played his role quite well. His role of Chiranjeevi seems like an extension of his character in 'Shatamanam Bhavati', a good-natured youngster who would help anyone. His comic timing has helped the film in many places.
Rashmika has nothing much to do except look beautiful in attractive costumes. She indeed is charming.
The film and the frame are filled with women characters, among them Radhika Sarath Kumar, Urvashi, and Khushbu get meaty roles. Urvashi dominates at places with her endearing act. Khushbu, as a self-made entrepreneur, looks fab in the second half.
Vennela Kishore, Satya, and Pradeep Rawat have tried to generate laughs.
Technical Excellence:
Devi Sri Prasad's songs have already become popular. They are also effective on the screen. The camerawork is pleasant.
The pace of the film is too slow. The editor should have cut the flab.
Highlights:
A couple of entertaining portions
DSP's Songs
Drawback:
Over sentiment
Lack of strong conflict
Final moments drag on
Predictable screenplay
Analysis
As a story, "Aadavallu Meeku Joharlu" has nothing much to talk about, but director Kishore Tirumala holds our interest in the initial portions as the supply of entertainment is enough to sit. The graph of Sharwanand turning from being an eligible bachelor to reaching the stage of girls rejecting him has offered some laughs.
Furthermore, Sharwanand's attempts to win Rashmika's love and her playful reaction provide neat entertainment in an otherwise predictable plot loaded with sentiment scenes.
But any story, even if it is an opt-repeated one, needs a strong conflict to draw the audiences into it. "Aadavallu Meeku Joharlu" has failed big time on that count. Whatever the conflict, the writer and director Kishore Tirumala presented looks patchy and feeble.
The whole exercise of Sharwanand leaving his home to join Khusbu's team is utterly boring. Kishore Tirumala has rehashed his 'Nenu Sailaja' thread (In 'Nenu Sailaja', Ram goes to Araku to convince Keerthy Suresh's father Sathyaraj) once again with little changes.
There are a couple of comedy scenes here and there. With too many women characters and their sentiments dominating the thin plot, it turns like a TV soap opera in the final portions.
The back-story of Khushbu is also formulaic but is understandable. But why is it that she fails to connect with her daughter? The 'gap' between the mother and daughter looks forced and unnatural given the mother's flashback.
The Ravi Shankar, Sharwanand, Vennela Kishore, and Rashmika's episode is another misplaced sequence in the film.
Kishore Tirumala is known for writing good emotional scenes but this time he came up with formulaic writing. There is not much romance between Sharwanand and Rashmika after the interval.
Many aspects of the story and characters are also unexplained.
Example: Sharwanand rides a Chetak scooter in today's time. His family doesn't have any four-wheeler vehicles but a vintage car. Why is Rashmika living in a flat with a roommate, when her mother resides alone in the same city?
All in all, despite the feel-good appeal and vibe of the family entertainer, "Aadavallu Meeku Joharlu" doesn't get it right. After the initial entertaining portion, it gets loaded with heavy sentiments to bear. The family drama turns predictable and drags on and on.
Bottomline: Only for women