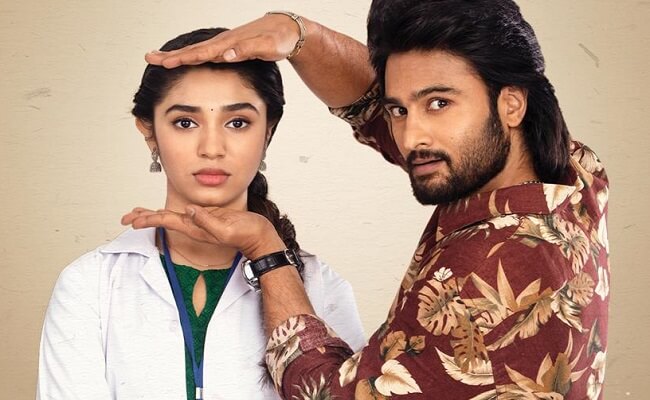 Movie: Aa Ammayi Gurinchi Meeku Cheppali
Rating: 2/5
Banner: Benchmark Studios
Cast: Sudheer Babu, Krithi Shetty, Vennela Kishore, Rahul Ramakrishna, Avasarala, Srikanth Iyengar, and others
Music: Vivek Sagar
Cinematography: PG Vinda
Editor: Marthand K Venkatesh
Art Director: Sahi Suresh
Producers: B Mahendra Babu, Kiran Ballapalli
Director: Mohana Krishna Indraganti
Release Date: Sep 16, 2022
Director Indraganti Mohana Krishna and Sudheer Babu have joined hands for the third time after "Sammohanam" and "V". Their latest film also featured the latest sensation Krithi Shetty. Amidst low-key promotions, the film hit the theatres.
Let's find out its merits and demerits.
Story:
Naveen (Sudheer Babu), a film director known for delivering blockbuster films, comes across a video of a beautiful girl. He decides to cast her in his next film and searches for her. She turns out to be a doctor.
Dr Alekhya (Krithi Shetty) has little interest in acting. Her family is dead against the film industry and films.
Why do Alekhya and her family have such an aversion? Why is Naveen so persistent in casting her in his next film? How does he change Alekhya's mind?
Artistes' Performances:
In the role of a commercial film director, Sudheer Babu has shown the required confidence and arrogance. He has given a decent performance, but his act in the emotional sequences in the second half is not up to the mark. The film is about 'ammayi' and Krithi Shetty pulls it off well.
Vennela Kishore as a Sudheer Babu's co-director provides some laughs. Rahul Ramakrishna does a neat job. Srikanth Aiynger as Krithi Shetty's father is okay.
Technical Excellence:
PG Vinda's camerawork gels with the theme. Vivek Sagar's music is weak. Lately, he is giving monotonous tunes. He fails with the background score also. The editor should have been firm on cutting out the length and slow pace.
Highlights:
The final half an hour
Interval twist
Drawback:
Uneven first half
Slow pace
Music
Weak writing
Analysis:
Like director Indraganti Mohana Krishna's previous film "Sammohanam", "Aa Ammayi Gurinchi Meeku Cheppali" (AAGMC) tries to dispel certain false notions about the film industry.
Set against the Telugu film industry, AAGMC begins on a slow note. The first hour is completely devoted to Sudheer Babu's directorial attempts and his efforts to convince heroine Krithi Shetty to become the lead actress in his film.
The first hour is filled with a couple of comedy stints, two songs, and a boring romantic track. Until pre-interval, the film tests patience.
With a flat and thin premise, the director has tried hard to hold our attention but only a few parts do the magic, the rest is quite boring.
The film has an interesting twist at the interval regarding the heroine's character. That is a bit surprising. Again, the film's emotional drive comes to the fore when Sudheer Babu reveals his flashback. These two episodes – the twist and Sudheer Babu's flashback – stand out in the film.
Indraganti's slow-paced narrative kills the mood after Sudheer Babu's flashback story ends. The heavy sentiment in the climax leaves us with mixed feelings.
Towards the the end of the film, there is a fight scene involving a film journalist and a senior film producer. Such sequences are not only out of sync with the current trend, but also adds length to the running time. The film needs a lot of trimming. The screenplay writing and the editing are not sharp at many places.
All in all, "Aa Ammayi Gurinchi Meeku Cheppali" has a couple of portions that work. But in totality, it turns out to be a drab affair. With little entertaining portions and a lack of catchy songs, the film makes a heavy watch.
Bottom line: Too Dull