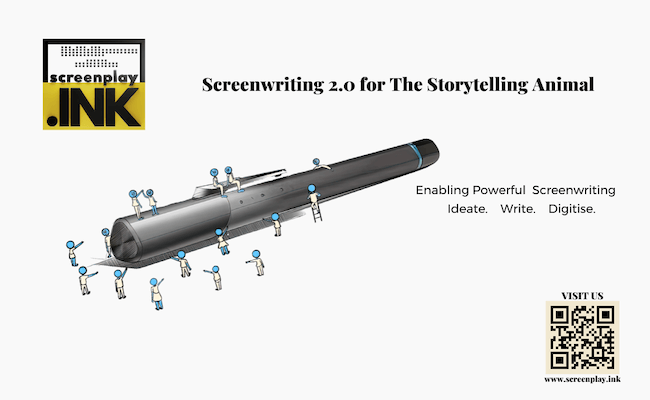 India, 24 November 2022: AJASTOS announced today that the company crafted better screenwriting experiences with innovative state-of-the-art digital pen technology for screenwriters.
It combined industry-standard formatting practices and a digital smart pen and paper and birthed a revolutionary technology that empowers screenwriters. Write on specialised screenwriter's stationery that converts handwritten text to a standard screenplay format in a digital file that's exportable to all major screenwriting software.
The world's first technology-enabled stationery with all the screenwriting essentials in a bundle makes the creatively daunting screenwriting process a joyous one.
A stark shortage of good content is plaguing the market; going by the recent trends of films failing massively at the box office, one may attribute it to the change in viewing trends or the newly emerging OTT space biting into the theatre market.
Still, the dialogue around creating an ecosystem to nurture and curate screenplays for features or shows is non-existent. Considering the wide gap between talent, screenwriting literacy, and industry connection, it's an arduous task. To solve this problem, Ajastos has designed a unique phygital solution that will aid anyone with an idea and a passion for writing a story for the screen.
"We believe everyone is a storyteller, one can hone screenwriting skills, and we have created a unique writing experience where one need not get bogged down by the complexity of most screenwriting applications. In today's digital era, such as artificial intelligence and metaverse, the importance of technology that connects the digital and physical worlds is emerging.
We created a unique phygital product that combines real-world writing with digital, easing the ever-tedious screenwriting process. We hope to give birth to more young screenwriters from the remotest parts of the country who can write refreshing stories from our social fabric or dazzle us with the magical worlds in their minds from paper to screen.
We cater to every pocket. We will be launching both Basic Economy, Advanced and Pro Erasable versions; the key difference is the ease with which one can digitise their handwritten script. With an Economy Version, one will need to use their mobile to click pictures with our application, and it will process the written data into digitally formatted text.
At the same time, the Advanced Version comes with a digital smart pen which does the job. Finally, the most interesting version is the Advanced Reusable. With this, one can write with the digital smart pen that uses erasable ink on N-coded stone paper," Said Ananya Akula (Director - of AJASTOS).
The company is preparing for a commercial launch around early March 2023. We are soon opening up 'Early Access' on an invite-only basis to interested screenwriting professionals or aspirants.
One can express interest at hello@screenplay.ink to seek an invite.
Wanted Screenwriters!
Or individuals willing to contribute some of their time to answer a few surveys that help us build a seamless Imaginarium for writers. In return, they will receive early free access to the beta versions.
Know more @ www.screenplay.ink
Socialise with us @ Instagram/screenplay.ink
About AJASTOS
Meaning: AJA-Brahma, STOS-Script to Screen. A Creator's Imaginarium
Founded in 2019, Ajastos is a Web 3.0 company catering to the film production industry with an end-to-end suite of products that enable filmmakers to professionally create their cinema from scratch and have a platform to distribute it. Every step of the way, at every stage of the process, we have software ideal for envisioning and executing creativity in the most streamlined manner.
Ajastos is on a mission to create a conducive ecosystem that empowers creators and unites the world through storytelling. we are creating the simplest yet most powerful screenwriting-enabling software the world has ever seen. We believe that delivering the world's stories through the vehicle of screenwriting will facilitate the most diverse and compelling stream of movies and television ever imagined.
AJASTOS is recognised by StartUp India, an initiative by the government of India.
Content Produced by Indian Clicks, LLC