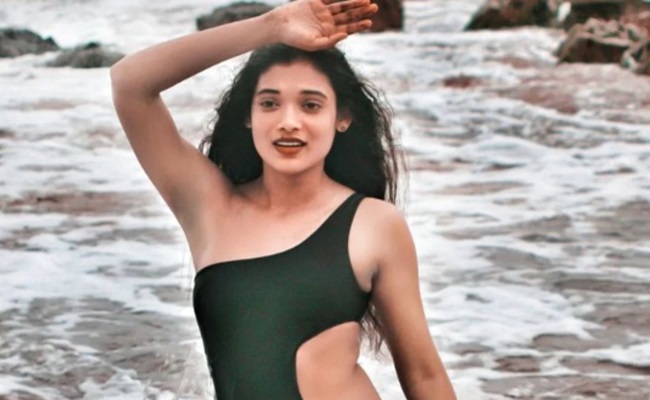 Telugu actor Rekha Boj has sparked controversy on social media by announcing her intention to undertake a celebratory "streak" on Visakhapatnam beach if India emerges victorious in the ongoing 2023 Cricket World Cup.
The statement has provoked criticism, with many deeming it insensitive and inappropriate.
As the cricket fever reaches its peak with India gearing up to face Australia in the World Cup final on November 19, Rekha Boj's bold promise has become a hot topic of discussion.
The actress took to X (formerly Twitter) to make her unconventional pledge, stating, "If India wins the World Cup, I will streak on Visakhapatnam beach."
However, the announcement did not sit well with many on social media, as numerous netizens expressed their disapproval of Rekha Boj's unusual promise.
Many accused her of using the World Cup as a platform for self-promotion and termed the announcement a mere publicity stunt.
One Twitter user drew a parallel to a similar incident in 2011 involving model and actress Poonam Pandey.
The user commented, "In 2011, Poonam Pandey said the same thing. Because it's for the publicity."
During the 2011 ICC Cricket World Cup, Poonam Pandey gained attention and stirred controversy with her promise to strip naked if the Indian cricket team won the World Cup.
Poonam Pandey said she would fulfill her promise to strip for the Indian cricket team and the entire nation as a way of celebrating the victory.
The provocative pledge generated significant media coverage and sparked debates about the appropriateness of such promises, especially given the cultural and social norms in India.
However, when India emerged victorious in the World Cup by defeating Sri Lanka in the final on April 2, 2011, Poonam Pandey did not immediately carry out her promise. Instead, she cited certain conditions and sought approval from the Board of Control for Cricket in India (BCCI).
Ultimately, Poonam Pandey did not follow through on her promise to strip publicly, and the incident became more known for the controversy and discussions it generated rather than any actual event.