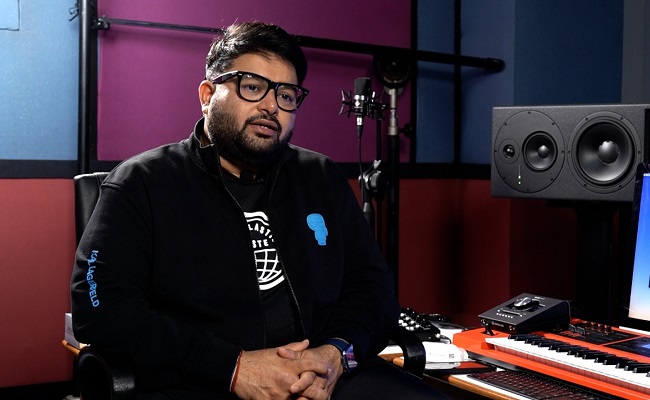 SS Thaman, the sensational music director of this season has revealed many interesting nuances of scoring background score for films. In fact, he introduced some trade secrets to the upcoming music directors.
It is known that his music has got huge applause for the films Akhanda and Bheemla Nayak in recent times. The success of these films is attributed to the most captivating background score as well.
Now Thaman is coming up with Radhe Shyam in a day. In fact, the film is a contrast to the previous two hits of Thaman. This is an out and out soft love story.
Then how could he score for this film and what made Prabhas say very high about him in the past few interviews.
In an exclusive talk with greatandhra.com, SS Thaman said, "Every story has some volume and sound. Music director should feel it. Bheemla Nayak is a treatment with all original instruments in folk and action style. Akhanda has to be dealt with loud devotional fervor. Now Radhe Shyam is a soothing one. There is a need to bring highness with smoothness. That's the biggest challenge here. On a whole the visual, the grandeur and perceiving the story and journey from Prabhas' point of view made me deliver the BGM that made the director surprised and delighted".
"This film is no lesser than Bahubali by all means. This is the biggest film in the genre of love. The interval bang and some episodes bring highness to the audience", Thaman shared.
Saying about what made him take over this project, he said, "I was in deep financial trouble in 2016. At that time Vamshi Pramod helped me with two films- Bhagamathi and Mahanubhavudu. That brought me the film Tholiprema. Eventually I could bag Aravinda Sametha with all these. Vamshi and Pramod gave me a ladder when I was in need. It is my responsibility to give him a return gift. So, not thinking much on commercial lines I did this continuously working for 33 days", Thaman opened up.
Thaman also said several interesting things about the pressure he is facing with the out of the blue viral songs from different languages.
He shared many other interesting things in his detailed chitchat.
Click here to watch full interview