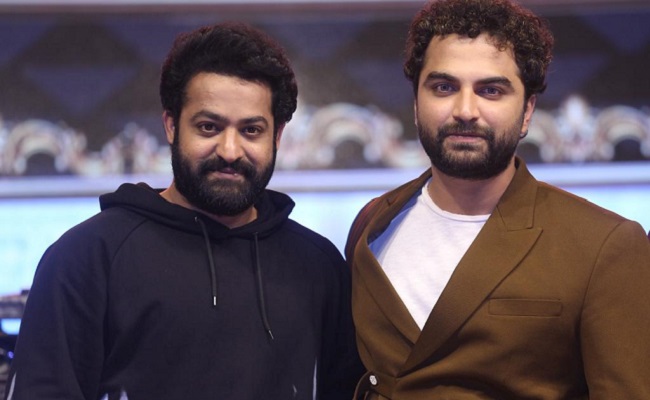 Vishwak Sen's latest flick Das Ka Dhamki pre-release event has been held in a grand manner with NTR gracing the occasion as a chief guest. The event witnessed crowd attending in huge numbers.
Hanu Raghavapudi who attended the event as a guest stated he has been watching all the movies of Vishwak Sen, ever since he saw and liked the actor's maiden directorial venture Falaknuma Das. "Acting, direction and production are three most responsible works in filmmaking. Vishwak capably handled three departments for Das Ka Dhamki. I hope he delivered the best."
Vishwak Sen thanked NTR for keeping his promise and attending the event. NTR anna invited me to his home three months ago and we had lunch together. He gave me his word to attend Dhamki function that day. Recently, an incident happened in his house. I didn't want to remind him about the event, under such circumstances. After all the rituals were done, he enquired about the date of the event. He is a man of word.
I produced, directed, and acted in the movie. I spent everything on it. There are people who want to see me lose everything. God sent me NTR anna as a big support system. Das Ka Dhamki is coming on Ugadi. My first directorial Falaknuma Das was released 5 years ago. I would have done 3 movies, had I only acted in the movie, in the last one and a half years. I have no regrets about that. You will enjoy comedy, songs, and fights in the first half which ends with a bang in the interval. There will be no jokes in the second half. Heart rate will raise because of the emotions. There is a surprising element in the last 2 mins."
NTR said team RRR won Oscar Award with the support of the Indian industry, audience, and fans. He stated it was a delight for him to watch Keeravani and Chandrabose on the stage and receive an Oscar award.
"Vishwak's confidence is just impossible. It's my responsibility to come here. Whenever my mood is off, Ee Nagaraniki Emaindi is one of the movies I prefer to watch. Vishwak and Abhinav were too good. As a first-timer, conveying so many expressions and emotions was no easy thing. Like as an actor, he has great confidence as a director too. After the release of Paagal, I felt was Vishwak going in the routine path. But he surprised me with Ashoka Vanamlo Arjuna Kalyanam. I was shocked again after seeing HIT.
Vishwak wants to prove something to himself. I wish Das Ka Dhamki will become a blockbuster. But Vishwak, stop directing movies. There are many young directors who are willing to direct youngsters like you.
Vishwak told me that he spent everything on the movie. He is very passionate. I wish this zeal should never die. We should encourage people like him. Let's welcome New Year with this movie. My next movie will begin soon. I will always be indebted to you."