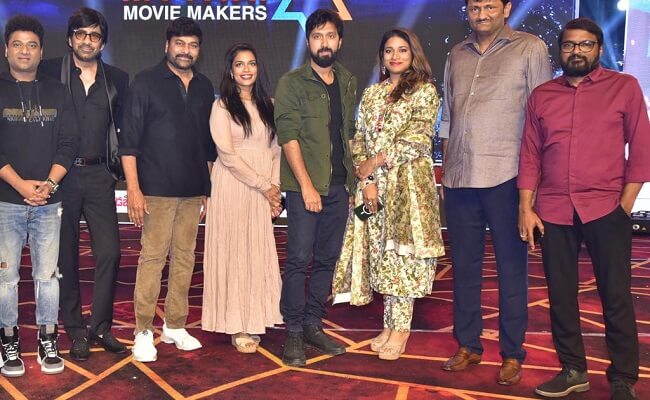 Chiranjeevi and Ravi Teja starrer Waltair Veerayya directed by Bobby under Mythri Movie Makers had its Mega Mass Party organized magnificently in Vizag and the event was attended by a massive crowd.
Producer Naveen Yerneni stated that it was their dream to make a movie with Chiranjeevi and thanked megastar for giving the opportunity.
Devi Sri Prasad affirmed that Chiranjeevi was an inspiration for almost every technician and actor who worked on the movie.
"We felt that this movie would be a tribute to Chiranjeevi garu. Ravi Teja is very positive and I love his energy. I like Chiranjeevi and Ravi Teja's positive attitude."
Director Bobby recalled a promise he made to his father during Indra movie function.
"I promised my father that I will make a movie with Chiranjeevi and we will watch the event sitting in the front row. I hope he will be watching this event. He passed away during the making of the movie. I learnt many things from Annayya Chiranjeevi garu. He never criticizes anybody. I feel that politics are not correct him. Annayya, God gave you a brother who is as good as you. There is only one megastar in the industry. For this kind of cinema, Ravi Teja is the energy I wanted. You will feel after watching the movie that Ravi Teja is the right choice. It was in my wish list to work under Mythri Movie Makers. Arachakam Arambham and Poonakaalu Loading is the interval card. Keep your expectations up. It's a big sankranthi film."
Ravi Teja danced alongside DSP and Shekar master on the stage and shared his memories as a Chiranjeevi fan.
"I used to tell my friends that I will also sit alongside Chiranjeevi one day. I started my journey as a charcetr artist, then played his brother in Annayya and finally I got something big with Waltair Veerayya. Annayya, we missed you for 9 years. I hope we don't miss you again. One great thing about him is that he never spoke negatively about anybody to date. Bobby is a very positive person. He will reach the next level with this movie. What I like about Mythri Naveen garu is that he only talks facts. I wish to continue working with them. This Sankranthi belongs to yours."
Chiranjeevi shared that his dream of building a house in Vizag will soon be fulfilled as he bought a piece of land in the city. He mentioned that he felt the positive vibes in the first hearing itself.
"Most of the movies for which I got positive vibes during first narration became blockbusters. I confidently say that Waltair Veerayya is going to be a blockbuster. I didn't give chance to Bobby because he is my fan. I gave him the chance because I believed in his talent. My love for Bobby increased after working for this movie. The movie will equally entertain classes, masses, ladies, and youngsters.
Waltair Veerayya is a pakka commercial cinema. It's an emotional rollercoaster ride. I feel that writers should never satisfy with their work. The writers who have some dissatisfaction, will finetune the stories and make super-duper hits. I love those who love work. I became Bobby's fan for his hard work and dedication. Everybody should take him as an inspiration.
Ram Charan told me about producers of Mythri Movie Makers during Rangasthalam that, they will become successful makers like some of the old producers who worked with me. He also suggested that I need to do one of my comeback movies with them. With all my experience, I'm saying, they will become star producers like Ramanaidu, Aswini Dutt, Allu Aravind, KS Ramarao, and Devi Prasad. They never worried about the budget. But I suggest them to be cautious. I think they are the only producers in the industry who are releasing 2 films at a time. I wish all the success for Veera Simha Reddy too.
Ravi Teja played a friend of mine in Aaj Ka Goonda Raaj. We did Annayya together. Whenever we work together, he always entertains us. He became mass maharaj now. Whenever I get time, I watch his movies. I felt happy when Bobby suggested his name. Both the characters will be very interesting. The climax scene, you need to watch on screen. Poonakaalu Loading on 13th."