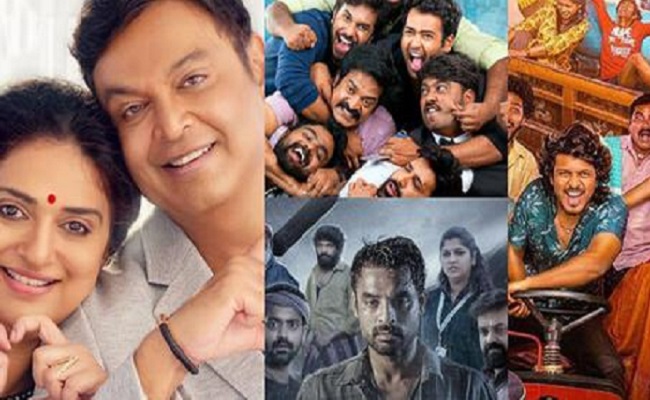 There are no movies featuring stars like Mahesh Babu, Prabhas, or Pawan Kalyan this weekend, but moviegoers are eagerly awaiting new releases.
All the upcoming movies are smaller productions, but with effective publicity, they have managed to attract attention.
Each movie has a dedicated section of the audience eagerly anticipating its release, resulting in four films generating significant interest.
One of the movies hitting theaters this weekend is "Mallee Pelli," featuring senior actor Naresh in the lead role.
This movie has garnered attention due to Naresh's real-life relationship with Pavitra, as the film showcases their live-in relationship.
The trailer even includes references to Naresh's personal life, making "Mallee Pelli" a hot topic of discussion.
Another movie that has captured the audience's interest is "Mem Famous."
Despite being a small film with relatively unknown actors, it has made a strong impression through its promotional activities.
The movie gained popularity through the publicity with creative drum beats and featuring famous actors like Vijay Devarakonda, Adivi Sesh, and Naga Chaitanya in the promotion.
Telangana dialect is another pull factor for this film.
"Men Too" is another film that is attracting the youth audience. With the tagline "It's hard to be a man," the movie's trailer promises a unique perspective.
The makers claim to have made "Men Too" without demeaning women and aimed to portray the humorous and emotional experiences of men struggling with women.
Last but not least, there is a dubbed movie titled "2018" that has caught everyone's attention.
Despite being a dubbed film, it has garnered significant interest due to its immense success in Kerala.
The movie achieved the distinction of being the fastest film to gross 100 crores in Malluwood, primarily due to its portrayal of the 2018 floods in Kerala.
Many believe it has the potential to create magic in the Telugu market as well.