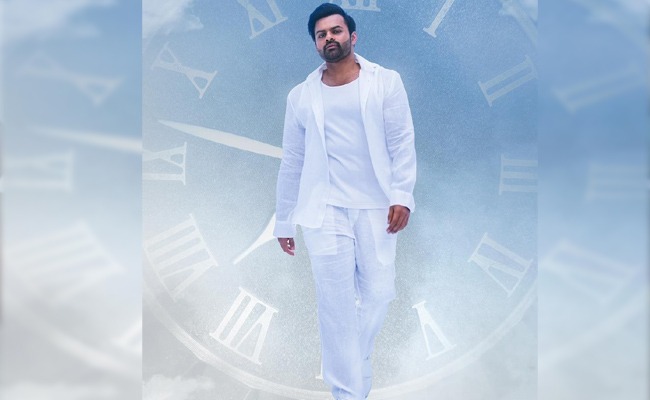 People Media Factory and ZEE Studios join forces to bring forth the highly anticipated Telugu film "Bro," featuring Pawan Kalyan and Sai Dharam Tej in leading roles.
Directed by Samuthirakani, with screenplay and dialogues by Trivikram, this family drama infused with elements of fantasy and spirituality has been creating buzz since its captivating motion poster release.
As the film enters its final phase of production, fans were treated to the enthralling first look of Sai Dharam Tej's character, Mark, adding to the excitement surrounding the movie.
In the visually striking first look, Sai Dharam Tej dons a white costume against a backdrop of numerous clocks amidst clouds, symbolizing his character's ability to befriend time itself.
Accompanied by Thaman's alluring background score, featuring the powerful Sanskrit hymn "Kaala triguna samshlesham," penned by Kalyan Chakravarthi, the teaser elevates the anticipation for Sai Dharam Tej's fans.
With talented actors such as Ketika Sharma, Priya Prakash Varrier, Samuthirakani, and many others playing significant roles, "Bro" promises to be an unforgettable cinematic experience.
Sujith Vaasudev's cinematography beautifully captures the essence of the film. The post-production work is currently underway, and the movie is set to hit theaters on July 28, 2023.
The collaboration between Pawan Kalyan and his nephew, Sai Dharam Tej, in "Bro" marks a momentous on-screen union, making it a highly awaited project in Telugu cinema.
The film's blend of drama, fantasy, and spirituality, showcased in its captivating promos, has raised expectations to new heights.
After a powerful glimpse, Sai Dharam Tej's introduction has captivated the attention of audiences even further, ensuring a thrilling cinematic experience.