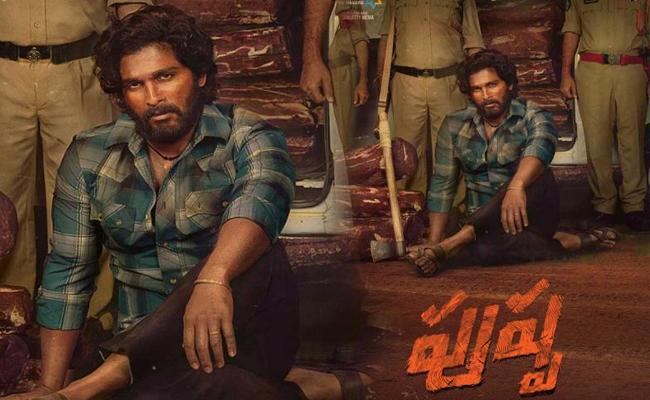 The stakes are too high for Allu Arjun starrer Pushpa: The Rise, which is due in cinemas today.
The film marks the reunion of director Sukumar, actor Allu Arjun and music composer Devi Sri Prasad, a hit combo in Telugu cinema, after more than 10 years.
The gruelling last-minute post-production work kept Sukumar from promotions. And even the lead cast and crew were busy with dubbing until December 10.
The responsibility of creating awareness about the film, outside the Telugu states, and getting people excited about it fell on the shoulders of the film's lead cast, Allu Arjun and Rashmika Mandanna.
In the last four days, the duo visited Bengaluru, Chennai, Kochi and Mumbai. They gave interviews, met fans and tried to make headlines as much as possible.
Greatandhra brings to you the Pushpa experience and all the excitement of this gripping fare live via tweet review.
Allu Arjun makes a grand entry. He is Pushpa Raj, a coolie or transporter.The film is set in the Seshachalam forest in Chittoor in Andhra Pradesh.
Allu Arjun's first scene is a fight with Tamil police.
The super hit "Daakko Daakko Meka" has come. Shot lavishly with Allu Arjun and group dancers.
A flashback episode.. Pushpa Raj's childhood episode. He doesn't have a surname. The reason has been explained in the brief flashback.
Ajay Ghosh is Konda Reddy, the smuggling Don of Red Sanders.
Pushpa wins his trust.
Srivalli, the local girl, steals the heart of Pushpa Raj. Rashmika enters as Srivalli. "Choope Bangaramaye Sri Valli" song is here.
A montage song.
Comedy scenes are going on involving Allu Arjun, Rashmika and his friend.
Mangalam Sreenu (Sunil) is the boss of the forest. The introduction of Anasuya as Daaksha has also been done.
One terrific scene of smuggling. And the scene ends withe dialogue - Ee lokam neeku tupaki ichindi naku goddali ichindi
The super hit "Oo Antava Oo Oo Antava" is here. This is a surprise, the item song comes so early. Samantha and Allu Arjun have set the screens on fire.
Pushpa Raj's tragic story is revealed. A sentiment sequence is going on
The first half ends with Pushpa challenging Mangalam Seenu.
First Half Report: Has dense plot and many characters. But it has some interesting episodes as well.
Second half begins with Pushpa dealing with Chennai batch.
An emotional sequence involving Srivalli and Pushpa Raj and a fight follows.
Here comes the super hit song "Saami Saami".Filmed colourfully.
Another action sequence. This fight and preceding scene is good.
"ye Bidda idi Na adda" song comes.
Entry of Fahadh. And finally, Malayalam superstar Fahadh Faasil makes an entry. He is a IFS officer Shekhawath.
He appears in the story after 2 and half hours
Fahadh steals with just one sequence
Film is heading towards climax.
The film ends with a heavy showdown.
Review follows