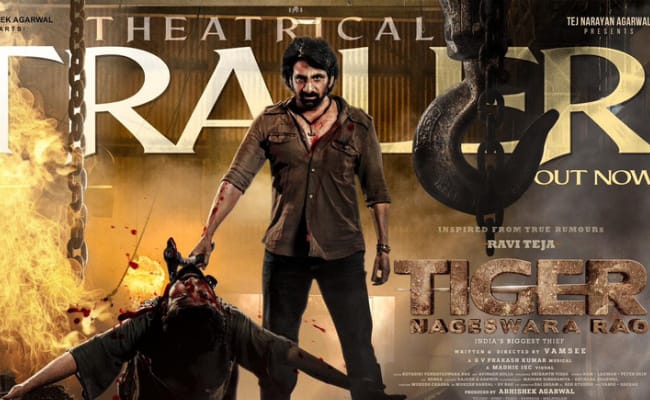 The teaser of Ravi Teja's Pan India film Tiger Nageswara Rao received a thumping response across the country. The makers today came up with the film's trailer which was unveiled in Mumbai.
The trailer begins with an episode where some vicious thieves take part in the auction to get exclusive rights to steal the town alone, followed by Nasser giving training to kids in robbing.
Upon his arrival, the protagonist depicts his uniqueness in stealing, as he informs the police, before getting into action. He has a hunger for power, he's greedy for women and has a lust for money.
While his opponents think his chapter is closed with his arrest, he is reborn as Tiger Nageswara Rao who is deadlier than earlier and challenges even the prime minister of the country.
The audacious escapades of Tiger Nageswara Rao in the latter part make the narrative more engaging and intriguing.
Director Vamsee adeptly dealt with the movie that glorifies the daring feats of Tiger Nageswara Rao and he crafted some extraordinary scenes for Ravi Teja.
Ravi Teja not only portrays a role that is very challenging, but he also delivers a brilliant performance. His powerful screen presence captivates action movie lovers. The presence of a stellar cast offers a feast for the eyes.
The trailer also shows the technical brilliance of the movie. R Madhie's cinematography is splendid, particularly his work for action blocks is outstanding.
The dark color palette works well. The background score by GV Prakash Kumar enhances the mood. Avinash Kolla designed some fantastic sets which give authenticity to the narrative.
The production values of Abhishek Agarwal Arts are highly impressive.
The excitement around this Pan India project reached new heights with this gripping trailer. But the real hunt begins in cinemas from October 20th.