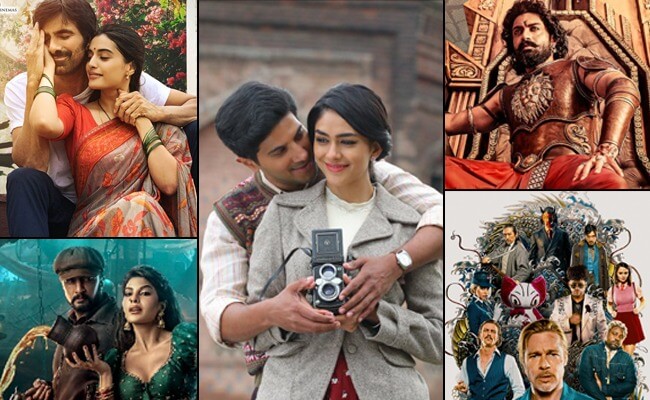 1. Bimbisara: This is targeted for the mass audience but as a bonus it is appealing for the toddlers for its out of the box socio fantasy element.
Kalyan Ram risked it by picking up this interesting tale but his decision fell on the right side making this a hit.
The collections are pretty good in many centers and the three days in the weeknd have witnessed full houses in prominent areas.
Kalyan Ram played the dual role while Catherine Tresa played the female lead. Mallidi Vasist scored a hit with his debut as the director.
2. Sita Ramam: This film targeted to the class audience is expected to do less than its mass counterpart but finally it ended up making good collections.
The openings were impressive and surprisingly the second day collections were picked up due to the positive word of mouth publicity.
The three days of the weeknd ran with full houses in many centers and this a relief to Telugu Film Industry after a long time.
Dulqar Salman played the lead while Mrinal Thakur fulfilled the requirement as female lead. Hanu Raghavapudi gave his best and finally it is a sigh of relief for producer Ashwini Dutt.
3. Vikrant Rona: This product from Sandalwood made good business initially and slowly waned out. The performance of the film can be considered average for its might.
The mass audience could patronize this film to an extent in some centers. The film is about the actions of an eccentric police cop in the backdrop of some supernatural suspicions in a remote village.
Sudeep played the lead while Jacqueline Fernande and Neetha Ashok are the female leads. Anup Bhandari directed the film and it is a dubbed film from Kannada.
4. The Bullet Train: This Hollywood film starring Brad Pitt in the lead role is a surprise performer this week.
The collections are satisfactory in multiplexes due to the footfalls of the young and teenage audience.
Joey King played the female lead while David Leitch of Deadpool 2 fame directed this. The film is a thrill ride through modern day Japan.
5. Ramarao On Duty: This disastrous film washed out from the theaters. This speaks about the worst plight of Ravi Teja's film which is being ignored by the audience on a shocking level.
The content was not liked by the majority audience and they slammed on the first day itself. The second week recorded the poorest collections and many theatres found empty with scanty audiences.
Sarath Mandava directed the film while Venu Thottempudi made a comeback with this.