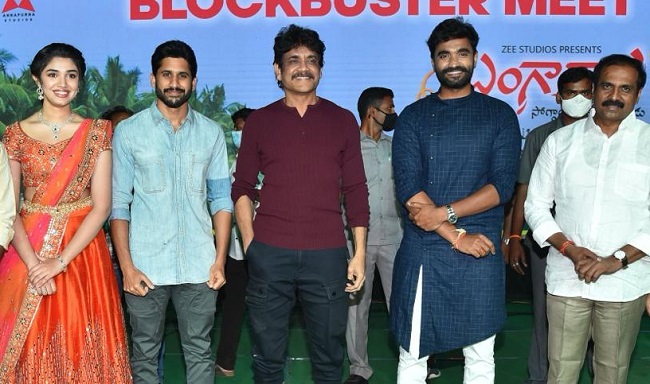 Nagarjuna and Naga Chaitanya starrer Bangarraju Blockbuster celebrations took place in Rajahmundry with several special guests attending it.
AP Minister and director Kalyan Krishna's brother Kurasala Kannababu thanked Nagarjuna for coming up with a colorful movie for the Sankranthi. He expressed his happiness for audience coming to theatres and making the movie a big hit.
Rajahmundry MP Bharath stated that Rajahmundry is a positive omen for the Telugu film industry. He also said to watch the movie soon and disclose his views on social media.
Krithi Shetty said Nagarjuna and Naga Chaitanya have heart of gold.
"Nag sir is very warm and a charming person. We can feel his royal personality. I'm speaking on behalf of everyone that Chay is a sweetheart and so easy to work with. Rajahmundry is very special place; I've spent lots of time shooting for the film. I also came for the success meet of Uppena."
Kalyan Krishna informed that they initially planned to hold pre-release event of the movie in Rajahmundry.
"Due to lack of time, we couldn't organize the event here. I'm standing here on the stage because of Nagarjuna sir. Chaitanya is real Bangaram. I traveled closely with him for this movie. I got a friend like younger brother. Krithi Shetty is a good girl."
Naga Chaitanya said, "Bangarraju was released amid tough situations, though we believed on the content. I didn't expect such massive response for the movie. You've given us career best openings. I'll always be indebted for you.
We got such a wonderful team to make the film in just 4 months. I had lots of qualms initially, but Kalyan Krishna boosted confidence in me to play the role.
Krithi Shetty completed hat-trick blockbusters. I'm so happy for her. I know how you will receive if we come up with a good movie. Now, I witnessed the feeling of scoring a perfect commercial movie."
Nagarjuna said, "The entire world was in fears whether audience will watch movies under these tough circumstances. Even North filmmakers stopped releasing movies. However, Telugu audience as assured gave a blockbuster for this Sankranthi.
The film's team says Bangarraju became success because of the belief I had on the script. But it is because of the belief I had on the audience. I came to know that the film is running with houseful collections in Rajahmundry. The collections are nothing in front of the love you shower on us.
I spoke with my friend Chiranjeevi about his meeting with YS Jagan. When I asked him about the same he said, 'Everything will be fine and good things are going to happen for the industry.' Thank YS Jagan Mohan Reddy garu for your assurance.
Bangarraju is a perfect Telugu movie with our panchekattu, our celebrations and our type of romance. My father is the real Bangarraju. NTR and ANR are the two eyes of our industry. It's NTR's death anniversary today. NTR lives on and ANR lives on forever."