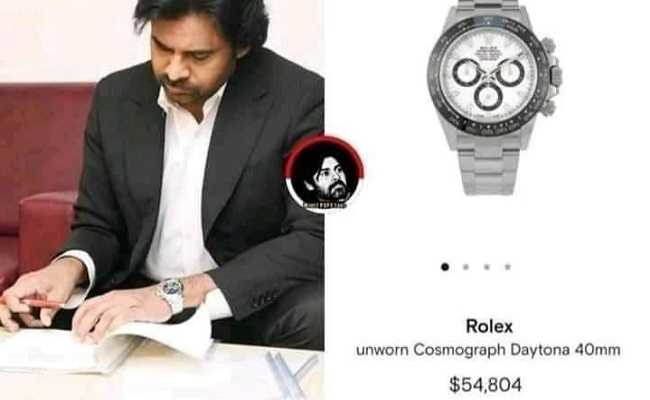 There is nothing wrong in wearing an expensive watch. There is no problem when a celebrity boasts his richness.
There is no point of discussion when an actor who charges Rs 40 Cr - Rs 50 Cr per film wears a Rs 40 Lakh worth watch.
Yes, Pawan Kalyan is seen wearing a Rolex watch version that costs Rs 40, 81,253/-. Now this has become viral in social media with various comments.
Some have argued that he wore that for the shooting purpose, while some are affirming that it is his own watch and he wears it many times regularly as well.
There wouldn't have been any issue had he never said that he has no money in his pocket to pay his car EMI.
He said that earlier when he wanted to show off his simplicity with an idea to connect to the common man.
He has also projected himself wearing a dhoti and lalchi for quite a long time as an embodiment of renunciation.
But suddenly he is seen with a Rs 40 lakh worth watch. Well, some are also saying that he never bought it but it was gifted to him by one of his fans.