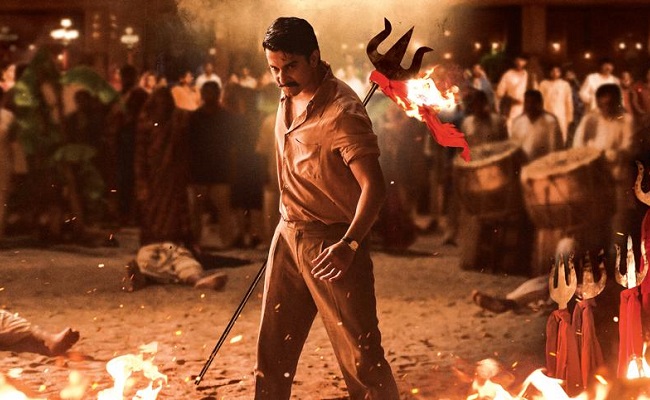 Teaser of Shyam Singha Roy that got overwhelming response was very intense as the main focus was on Bengali guy character, though it showed the other character of Nani as Vasu.
The film's theatrical trailer that is out now shows other side of the movie. Other than intensity and drama, the movie has other elements as well.
In fact, the trailer is precisely balanced with all the commercial ingredients in right proportions.
The character Vasu is introduced as an aspiring filmmaker who left software job to pursue career in the film industry. But his acts somehow bring laughter, as he doesn't look serious in work.
Krithi Shetty plays film actress who is ultra-glamorous and is also in relationship with Nani.
However, one incident leads to Nani beholding mystic elements with story transporting back to 60s in Bengal where Shyam Singha Roy is introduced.
He is a writer who is deeply in love with Sai Pallavi who is a Devadasi. He fights against the devadasi system to marry her. In the process, he faces lots of humiliation.
What's the connection between Vasu and Shyam Singha Roy has to be seen in theatres?
Rahul Sankrityan seems to have made this film as a commercial entertainer laced with love, comedy, drama, action and supernatural elements, as the trailer looks arresting and spellbinding.
Nani is very funny as Vasu, wherein he is a different man as Shyam Singha Roy. He has showed huge variation in both these characters.
Sai Pallavi is a gifted actor who played her role with perfection, whereas Krithi Shetty played a glamor doll which is contrasting to her role in Uppena.
While Nani-Sai Pallavi's love track looks epic, Nani-Krithi's track is contemporary.
While Rahul Ravindran appeared as Nani's friend, Madonna Sebastian is seen as a lawyer.
The artwork in Kolkata episodes is impeccable as the sets look authentic and camera work deserves special mention.
Mickey J Meyer has done magic with his background score as he represents the culture of Bengal in 60s with his BGM.
Produced by Venkat Boyanapalli under Niharika Entertainment, production design looked extravagant in the trailer.
Apparently, fans will have a feast to see the wonderful performances of Nani, Sai Pallavi and Krithi Shetty!