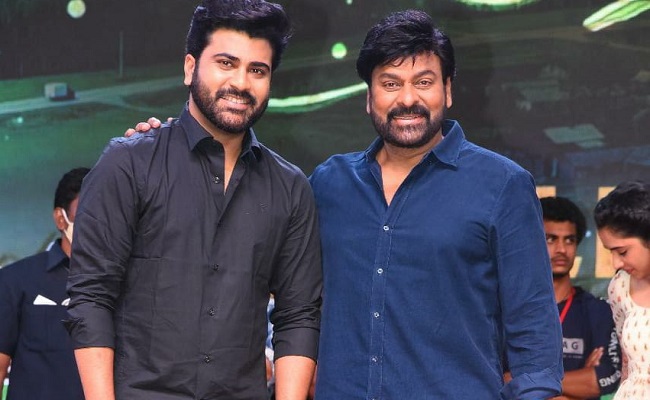 Sharwanand's wholesome entertainer Sreekaram is gearing up for theatrical release on 11th of this month as Maha Shivaratri special attraction.
After the release of the trailer, Ram Charan who liked it had asked his dad Chiranjeevi to grace pre-release function.
Chiranjeevi watched 9 mins of the film, before giving his nod to attend the function.
Sharwa turned bit emotional to see Chiru at his film's promotional event which is a grand success with crowd coming in massive numbers.
He said, "I feel tensed to speak before Boss (Chiru). My very first film was Shankar Dada MBBS and it was my first success too. Chiru accepting to grace the function itself was our first success.
Chiranjeevi told me one thing which I will never forget. If your will power is strong, god will change your fortune. That will power indeed made me a complete actor.
I'm so thankful to my friend Charan who inherited all the good qualities of Chiranjeevi.
Coming to Sreekaram, it has space for love, fun-loving friends, emotional father and good-looking girl. For many of us, the film will be like going to our hometown and spending time with family.
Mickey J Meyer game me wonderful album, after Shatamanam Bhavati. It's a complete team effort."
Chiranjeevi said, "I came here for Acharya shoot. Puvvada Ajay Kumar treated me like a brother and gave us all the support during the shoot here in Khammam. It was Charan who requested me to attend pre-release function. Then I told him that how could it be possible as I'm shooting in Khammam. He then told me that, the team will come to Khammam.
Sharwa is like a family member since his childhood. He is like another Ram Charan to me. He didn't express me whether he was interested in acting. We acted together for Thumbs Up ad. He might have interest, but he didn't express.
He played a brief role in Shankar Dada MBBS. Sharwa has been showing maturity for every film and he has become a star now. He will surely attain success with the film. I watched 9 minutes show reel. A good message is given to youth in a commercial way. I loved the dialogues.
We have seen IT guys giving up plum jobs to take up farming. If farming is done using modern technology, it will definitely be more profitable. I suggest everyone to educate, but they shouldn't forget agriculture."
Producers Ram Achanta and Gopichand Achanta thanked Chiranjeevi for attending the function to bless them and support the film.
Sreekaram will have another event tomorrow in Hyderabad which will be attended by TRS Working President KTR.