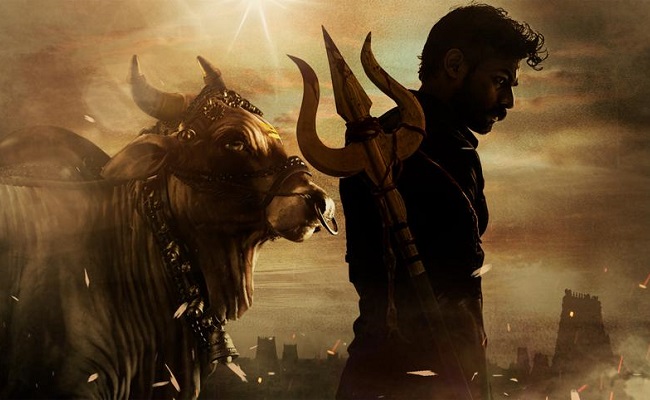 As we reported previously, Panja Vaissnav Tej will be doing a mass film for the first time and it will be made under Sithara Entertainments and Fortune Four Cinemas.
Debutant Srikanth N Reddy will be wielding the megaphone for the movie tipped to be a mass action entertainer.
The film will be launched formally today and the makers meanwhile released a small glimpse that will show the kind of oora mass role Vaisshnav Tej will be essaying in the movie.
The opponent warns, "Rey… Ramudu Lanka Meeda Paddam Yinuntav… Ade Padi Thalakayalodu Ayodhya Meeda Padithe Yettuntaado Suthhaavaa…"
Tej gives a fitting counter saying, "Mee Ayodhya Lo Undedidi Ramudu Kaadappa… Aa Raavanude Kolise Rudhra Kaleswarudu… Thalanu Kosi Sethikisthaa Naayaalaa… Sooskundaam Raa…"
The single conversation alone gives enough elevations to Vaisshan Tej's character. The last frames show the mass avatar of Vaisshnav Tej with twirled moustache, beard and messy hair.
There is a bull with trident beside him, while we can see a temple in the background. The background score is stupendous.
Although it's his first movie, Srikanth Reddy has shown lots of maturity in writing and presenting the character.
The happening beauty Sreeleela is roped into play Vaisshnav Tej's love interest in the yet to be titled flick.
Produced by Naga Vamsi and Sai Soujanya, #PVT04 will hit the screens for Sankranthi, 2023.