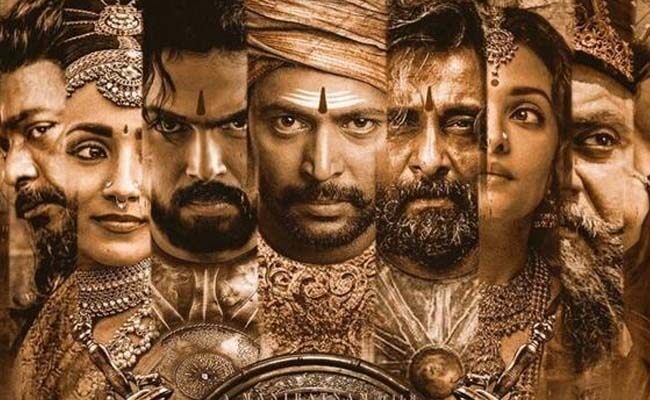 Ponniyan Selvan, the most awaited mammoth budget film was released and opened with mixed reviews and opinions. While a few said that it was a film made with a great effort, many said that it was confusing. The opinions are myriad.
Let us go through. These opinions are picked up from different social media platforms.
"I didnt get what Chiranjeevi told in the beginning voice over. That's not the way to prepare the audience. He might have explained the family tree and introduce all the characters here. That would have avoided a lot of confusion", mentioned a netizen.
"I read the novel and I know the content. I understood the narration but didnt get the high. Because I imagined Ponniyan Selvan Raja Raja Chola as the top king in the Tamil monarchial history. So I wished a top actor play the role but not Jayam Ravi", said an audience from Madurai.
"I loved every bit of it. This is Mani Ratnam's style. I respect his efforts and felt bad to see average to below average reviews for this magnum opus. Mani Ratnam deserves all accolades. This is history. The director cannot simplify this with limited characters like that of Bahubali. This film truly deserves an Oscar", mentioned a netizen in Telugu on his facebook handle.
"I feel pity for those who say that they didnt understand the film. They should know that their cognitive power is weak instead of under rating Mani Ratnam's talent with regard to this film" said an Engineering student in a whatsapp group.
"I waited for this film only for one reason- the combination of Mani Ratnam and AR Rehman with Aishwarya Rai as the icing on the cake. But I didnt like the songs though I tried to listen to them with my favoritism towards the names. I liked the film immensely for its grandeur and not by content. I didnt get even a single goosebumps moment", mentioned a 40 year old audience from Vijayawada.
"I wait for the second part only with an expectation that everything is packed on there. I feel I get compensated with what ever I missed in PS1. Mani ji! Please do it soon", said a netizen on twitter.
On a whole, there are countless opinions pouring everywhere but these are few that make some sense with strong opinions.