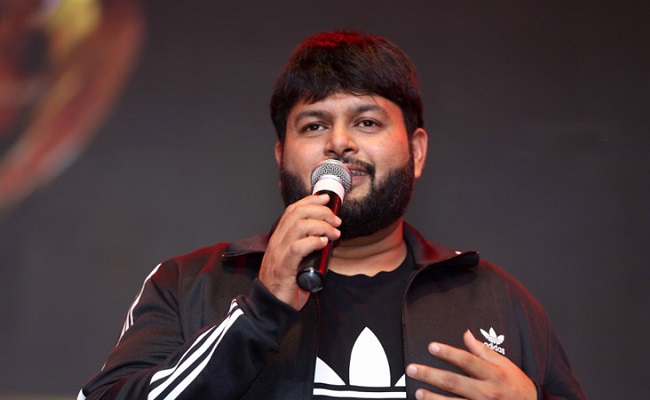 2019-2020 may be disappointing for some people but will be memorable for music director Thaman.
A superb hit like 'Ala Vaikunthapurramloo' has increased the range of Thaman. His other audio albums 'Prathi Roju Pandage', 'Venky Mama', 'Disco Raja' have also received good appreciation. He has crazy upcoming films like 'Vakeel Saab', Ravi Teja's 'Crack' etc.
But his plans slightly got disturbed with corona. Let us have a chat with him.
How many tunes did you compose?
What is this, you should be asking 'how are you'?
You'll be good always. How did you utilize the free time of corona, how many new tunes have got added to your tune bank?
My team and I are working full time. We are spending time by using softwares like Zoom, Office etc. We are checking technical updates, composing tunes, etc. We are also chalking out a strategy on how to do start our work post- lockdown. What kind of precautions should be taken? What kind of health guidelines should be followed etc.
What about one billion views success of 'Ala Vaikunthapurramloo'?
Not just one billion but it is an all-round success. It is successful in theaters, OTT and online.
Can you tell us your role in this success?
My role is not the right word, this is completely teamwork, my team and I, singers, lyricist Sitarama Sastry garu. Above all, director Trivikram. In fact, all the credit goes to him. It is not easy to manage our 24 crafts and get the required output.
How did he bring out the best from you?
We don't think about work first. I spend time with him for a few days. I go to the shoot and office. We spend time just talking. I have told this earlier. He appears to be a new person every day. We get energy from him. Quality work comes from it.
It's not a controversy but you have worked with several directors and delivered many hits. Didn't they utilize your full stamina?
Not like that. Everybody has a different working style. Trivikram's style is different. For many years, it was my dream to work with him.
Other music directors may have this kind of a dream, right?
Yes. I was fortunate that my dream fulfilled.
Are you ready for Trivikram -Thaman hattrick success once again?
Yes. Everybody knows how the RR and songs of Aravinda Sametha received appreciation. When the same combination with NTR repeats, the expectations will be surely high.
Did you start your preparation to reach those expectations?
Yes, we have started.
Can we assume that NTR-Trivikram movie work of song situations, tunes started?
No. We have a rough idea in our discussions like what should we do on a basic level, what should be the theme etc. Once the director starts giving us inputs, we will commence the actual work. We're waiting for it.
Can you tell us something about Vakeel Saab, Solo Brathuke So Better and Crack?
Editing started for Vakeel Saab and Solo Brathuke So Better. RR will start once editing is over. We are planning to release a song from Crack soon.
Do you think the work style will change because of corona?
Definitely. I'm making the necessary changes in my recording space in Hyderabad. Similarly, I'm readying a small workspace in Film Nagar. It is also readied keeping corona precautions in mind.
Are you missing your favorite sport cricket?
If I'm the only person keeping away from cricket I will feel sad. If everybody is playing and they don't allow me, I will feel bad. No one from our team is playing.
How do you feel about staying at home for 2 months?
My wife and mother are very happy. Because I was not spending much time at home for all these years. They are very happy.
Thaman's remuneration hiked?
I am always the same. All the producers know my attitude right from the days I used to wear shorts.
Now, you are wearing pants. Did the size of your pockets increase?
Don't the producers know about it? What is Thaman's work? How much should we pay him? They themselves will give us. There is no need to ask.
Thank you so much for sharing your feelings and information though you are in Chennai now
I should thank you for interacting with us and sharing the information.