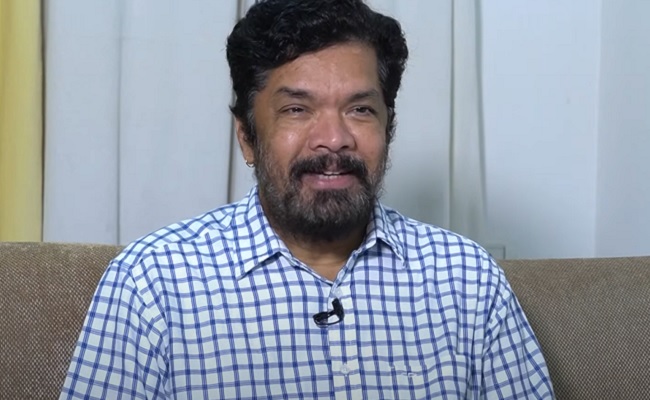 Well known artiste and an equally controversial writer/orator Posani Krishnamurali shared his thoughts on the legendary N T Rama Rao and few aspects of his life.
Referring to Chandrababu Naidu's attitude towards NTR, he started off saying, "When NTR was murdered.... by murder I don't mean it literally but by repeatedly publishing in magazines saying he is a villain, CBN doesn't have value system.
Even Amarnath Menon, a senior journalist of India Today Magazine also made to write that NTR is a man who doesn't have values. People know clearly whether NTR has values or Chandrababu has values. When NTR became CM, there was not one person who arranged for food on time for him though he has dozen kids. We don't know whether they came and fed him.
From what I know and from what few politicians said NTR garu was struggling to have proper food on time everyday. There was nobody to even give him medicines on time. He had everybody but with nobody around.
Someone like Renuka Chowdary used to send him meals carriage out of respect. I was surprised hearing all this.
Given all this, for what reason would he marry Lakshmi Parvathi. He was 70 plus by then. Did he marry her for sex?
If he really needed a girl, Lakshmi Parvathi need not be the one. He can get even a sweet sixteen girl. If a rich man says he is ready to spend 5 lakhs per day I need a young girl its not big deal.
Lakshmi Parvathi is educated, more than 40. Her husband was also educated and respectable in society. They also have a son. What NTR garu liked in her was her behaviour, her mentality. What she has done outside is irrelevant, she was very devoted to NTR garu.
Writing his biography, she has also seen NTR garu's struggles. Right from pressing his feet to taking care of his sugar medication, she served him devotedly.
She used to sing his favorite songs, read favourite prose as per his demand. She used to speak literature, value system, philosophy as he wanted. That made him realize that if this person is with me, my life will be peaceful, my health will be good. That's when he asked if she would marry him in front of thousands.
Till such time even if she didn't know he would propose marriage to her.
Many people were against this marriage. From thereon, Chandrababu took advantage of the situation. He started projecting her as an evil force, a housebreaker. He felt that if she comes inside, his survival will be at risk. She might become the next CM. Did Lakshmi Parvathi earn 1000 crores or hundreds of acres of land. You can verify it anywhere.
Even today she is struggling to make ends meet. What should be the expectation if she is the wife of NTR.
Chandrababu never had Heritage, multicrore properties or thousand crore businesses in Singapore before. From where did he get all these? Why is Lakshmi Parvathi not having the same kind of wealth? He was obsessed about the CM chair, he manipulated the image of Lakshmi Parvathi and eventually he became responsible for the death of NTR."