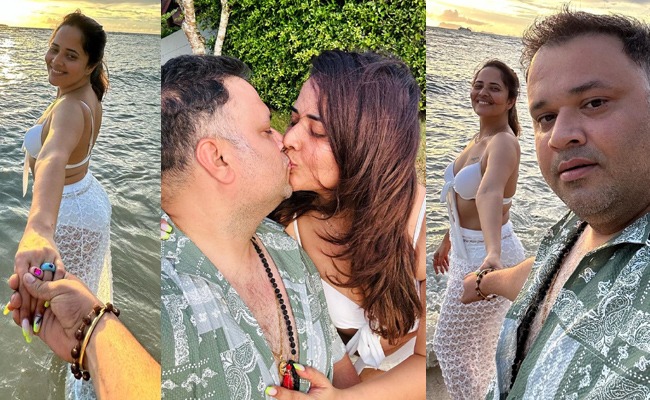 Anasuya Bharadwaj, the talented actress known for her remarkable performances in big-ticket Tollywood films like Rangasthalam and Pushpa, has often been confined to specific roles.
However, the truth remains that she possesses immense glamour that the film industry has not fully explored.
Recently, she shared pictures on her social media account taken during a beachside getaway with her husband.
In the photos, Anasuya exudes confidence and beauty, wearing a white bra and matching underwear with a see-through net-like apron as the bottom garment. With grace, she reveals her stunning physique, highlighted by a visible tattoo.
Additionally, she shared a passionate lip kiss with her partner, eliciting envy from male fans who have fantasized about her.
Those with discerning taste would undoubtedly agree that Anasuya's husband is a fortunate man. Her captivating charm and alluring presence continue to captivate audiences, proving that she possesses a multifaceted talent and beauty beyond the roles she has been offered thus far in her career.