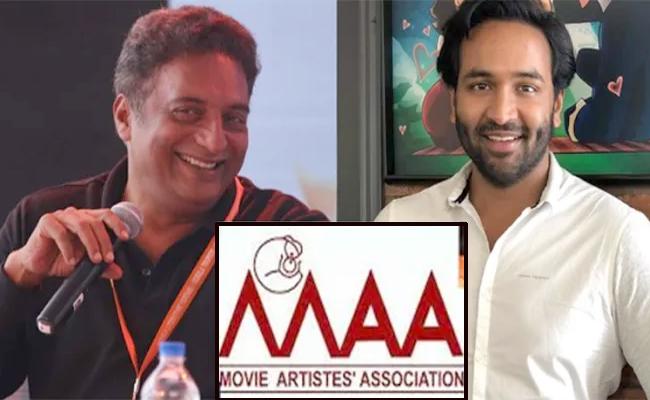 MAA Elections were considered to be a small election with member count not crossing beyond a thousand. But the impact it has created is bigger than expected.
After the defeat, Prakash Raj called for a Press Meet and announced his resignation to MAA. He said that the voters gave victory to a local Telugu person who campaigned with the point of local-non local aspect and that clearly hints that his presence is not welcomed by the majority members.
In a way Prakash Raj is correct. How can he stay in an association as a second grade citizen? How can he stay in a group where he can just vote but cannot contest?
In case of any tiff between a non-local member and a local member the MAA association may go biased. That's what it is conveyed. Prakash Raj's resignation to this association is rational and can be understood with logic.
A Press reporter foolishly asked Prakash Raj, "Pawan Kalyan is still continuing to fight despite losing in two constituencies. Then why do you resign and go?"
Prakash Raj tried to answer that working in politics is different from staying in this association.
On the other hand Nagababu also announced his resignation. He supported a candidate who is not a born Telugu but did most films in Telugu. But the candidate lost. Nagababu is a local actor but he didn't like the regionalism aspect in Telugu film industry.
Telugu film industry people need the support of non local talent to sell their films. But they don't want their leadership and advice.
It should be underlined that Manchu Vishnu worked with a foreign director and a Bollywood senior actor Sunil Shetty for his recent film Mosagallu.
Ravi Babu who pointed out about the non local cinematographers and editors, worked with cinematographer Loganathan Srivinas and editor Antony for his films. Both were Tamilians.
Kota Srinivasa Rao who lamented about local-non local issues also acted in Hindi films like Sarkar and Tamil films like Saamy. Kota is so bad in Tamil that someone had to dub for him. But Prakash Raj is not like him. He is a polyglot. But still Kota Srinivas Rao thinks that he is better than Prakash Raj.
It's all the regionalism, opportunism and above all the hypocrisy that are ruling the Telugu film industry.
Even the outsider feels repugnant looking at all this stuff. We can understand how Prakash Raj, the victim of this atmosphere, would feel.
Above all, casteism also plays a big role in Telugu Film Industry. When every office bearer in Prakash Raj's panel lost election, only Srikanth winning against Babu Mohan is a clear sign of this. Had there been any other person from the forward caste in the place of Babu Mohan, then Srikanth might have lost. It may be hypothetical but cannot be ignored.
K.Y. Subrahmanyam
Click Here for Latest Direct-to-OTT Releases (List Updates Daily)