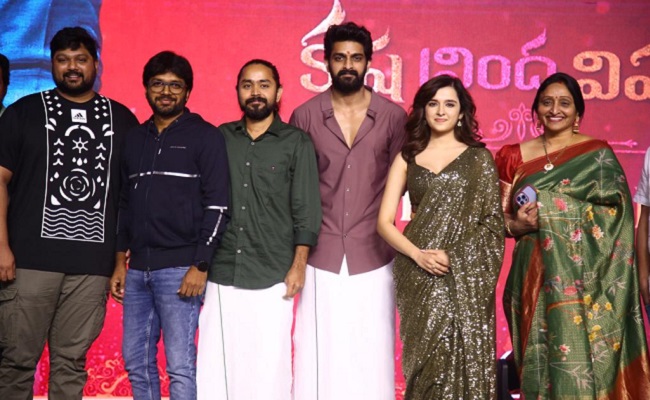 Naga Shaurya's wholesome family entertainer Krishna Vrinda Vihari's pre-release event was hold today with Anil Ravipudi attending it as a chief guest.
Anil Ravipudi revealed why Krishna Vrinda Vihari is special for him.
"It's like my family with Anish, Sai Sriram, Tammiraju and Shaurya, with whom I share good rapport, worked together for the film. What I like most about Anish is there is always smile in his face.
Ira Creations is like home production for me, for the kind of care they care for actor and technicians. Shaurya is a most hard-working hero. I hope, the film will become biggest hit for him. The Padayatra is a good idea. Shaurya hats off to you for your dedication."
Naga Shaurya thanked his parents for floating the production house for him and his friend.
"They will continue to make movies under the banner with other heroes. Anish is a sweet heart. I changed a lot in the journey with him. He has lots of patience. There is a key sequence in the movie. Lakshmi Bhupal penned the scene and it's going to be very crucial.
Hats off Lakshmi Bhupal sir. Mahati is my best friend in the industry. Shirley is a good actress and a singer.
I wouldn't have done the movie, if Radhika madam didn't accept to do it. I call Anil Ravipudi anna as AAA. He's always there to support me. I did padayatra and visited places. A person asked me to take him to the industry.
He thought I was born rich. But the fact is I came from a middle-class family. I didn't have cars, before becoming a hero. Film industry is the only place where technicians are provided with food, other than giving salaries. I feel proud to be part of this industry. I'm sorry, if I hurt anybody."