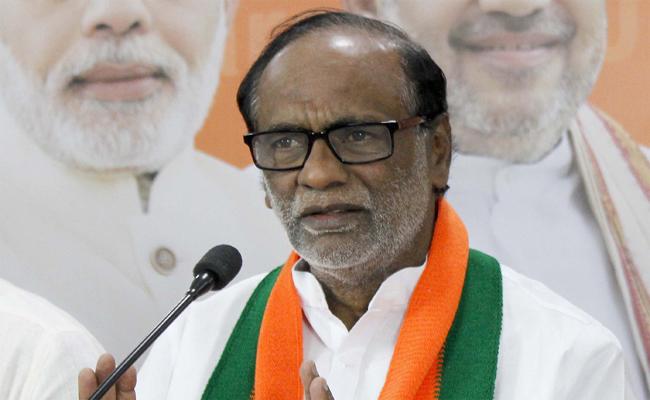 There is no question of Bharatiya Janata Party forging an alliance with the Telugu Desam Party in Andhra Pradesh in the next assembly elections and any such talk of a BJP-TDP pact is just a speculation.
This was clarified by BJP Rajya Sabha MP Dr K Laxman, who is also a member of party's parliamentary board, the highest policy making body of the party.
He told reporters in Hyderabad that if at all the BJP will have any alliance with any party in Andhra, it will be only with the Jana Sena Party headed by power star Pawan Kalyan.
"It is just a propaganda by some sections that the BJP will join hands with the TDP," Laxman said.
In the past, some leaders like BJP state president Somu Veerraju, party in-charge of Andhra affairs Sunil Deodhar and MP G V L Narasimha Rao also made similar statements in the past denying the BJP-TDP alliance in AP.
But the talk by some other leaders like Kanna Lakshminarayana, P Vishnu Kumar Raju and Satya Kumar endorsing TDP statements in the past led to the talk that the BJP may be looking towards the yellow party.
Now that the assertion has come from none other than a parliamentary board member like Dr Laxman, who has no interest in Andhra Pradesh politics, it appears to be reliable.
Laxman said the people of Andhra Pradesh were strongly desiring to have a national party like the BJP to rule their state, as there has been no developmental works in the state after the bifurcation.
"We shall form the next government in AP in collaboration with Telangana," he said.
With regard to Telangana, Laxman exuded confidence that the BJP will sweep the next assembly elections in the state. Apart from Karnataka, Telangana will be the second state which will be ruled by the BJP in the coming days.
"Many TRS leaders, including MLAs are eager to join the BJP and very soon, the ruling party will crumble," he said, adding that the national party proposed by chief minister K Chandrasekhar Rao will turn out to be a damp squib.