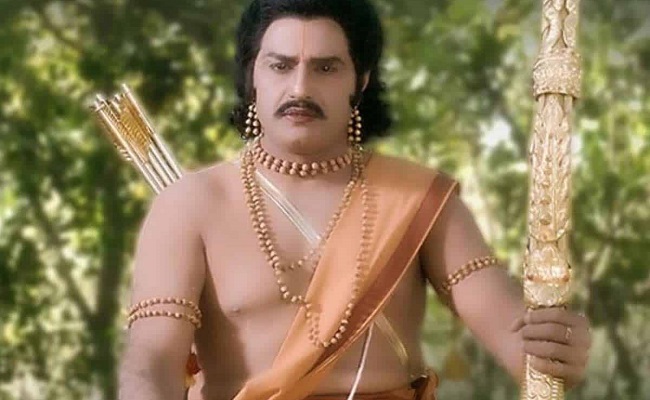 'Nartanasala' directed by Nandamuri Balakrishna was a prestigious project which commenced few years ago and got shelved midway.
Actress Soundarya who was doing the role of Draupadi died in a flight accident while Balayya had his own personal issues then.
Now, Shreyas Media has come forward to stream about 16 minutes of footage which was shot then. But expecting too much from it would be greed.
Apparently, there are only 2 scenes and they are charging Rs 50 plus taxes.
One scene is 8 minute long and it shows Pandavas discussing on what disguise each one should wear and how they can hide for one year during 'Agnyaathavaasam'. This is the scene directed by NBK.
As for the remaining 8 minutes, they have lifted the 'Naravara kuravara' song from the original 'Nartanasala' featuring legend NTR and put it here. They have also lifted the scene where Urvashi curses Arjuna. That way, there is no chance to see Balayya's directorial talent.
If you think this is cheating, here is more. To show Balayya in 'Briharnala' getup, they picked up a small bit from his another movie 'Top Hero' where he is seen in a female getup in one song.
At least if they did CGI and showed Balayya alone it would have been okay but next to the lady getup the real Balayya is also shown dancing. You get a feeling as if you are watching a fan made trailer made by an amateur editor on Youtube.
They mentioned that the proceeds of this show would be used for charity but if they were honest enough in mentioning beforehand that they didn't have even half of actual footage, it would have been respectable.
Even better would have been informing that people can pay what they feel like instead of putting a fixed price for the show.
Bottomline, the new 'Nartanasala' video clip is more than an ad film and less than a Short Film. Except listening to Balayya's signature style Telugu dialogues and seeing Soundarya and Srihari, the rest is disappointing. But if this film has to be resurrected, it is possibly only by Balayya and nobody else.
Click Here for Latest Direct-to-OTT Releases (List Updates Daily)