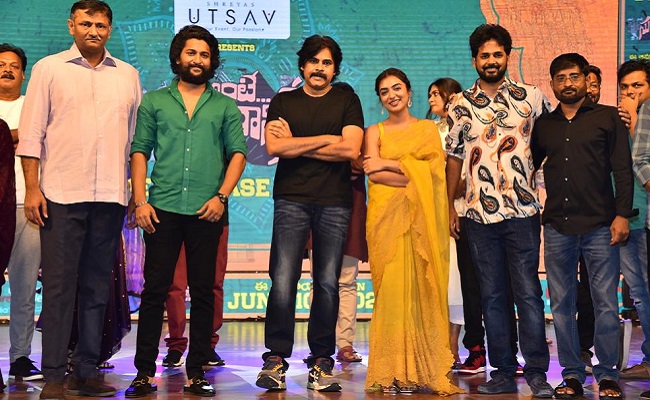 The pre-release event of Ante Sundaraniki has been held, just a few hours, before the film's theatrical outing and it turned out to be much bigger hit with Pawan Kalyan gracing the occasion.
Directors Sukumar, Harish Shankar, Gopichand Malineni and Buchi Babu Sana graced the occasion as guests.
Sukumar stated that he felt jealous of Vivek Athreya, after seeing the fun as well as emotional part in second half of the movie. He said that he affectionately hugged Vivek Athreya, after the special show. He also heaped praises on hero Nani for his wonderful performance.
Harish Shankar made it clear that his film with Pawan Kalyan is very much on. He lauded director Athreya for his writing and direction. He said there is relatability to the story with his personal life.
Nani stated it's the perfect definition for pre-release, as the movie is celebrating the event just few hours before the premiere shows in USA.
"I met almost all the stars, after I came to the industry. But I didn't get the chance to meet Pawan Kalyan until today. However, it feels me like I knew him for long time. Every artist and technician worked really hard for the film. In Kalyan's style, my team has thikka and it has lekka. I'm very proud of this film. There is no hierarchy, as well all worked as a team. Superhit vibes have already started. Ante Sundaraniki is not entertainment, it's enjoyment."
Pawan Kalyan appreciated Nani for his character of being strong always. He made an interesting statement saying Nani has fans in his family as well.
"I, on behalf of the Telugu industry, welcome Nazriya to Tollywood. I like Naresh who was my neighbour in Chennai. Director is a backbone for every film. My wishes to director Vivek Athreya. Telugu film industry doesn't belong to one single person. It's for all. We all wish for the success of our movies, but we don't wish others movies to fail. We may have different ideologies or opinions. But cinema and politics are different. There is no language, caste and religious feel for cinema. All the actors worked for Ante Sundaraniki have come from different parts of the country. There are fans for Nani in my family as well. My sister was in a rush last year to watch Nani's movie in a theatre. He's a versatile actor. I'm not a great dancer. I Like walk, rather than dancing to a good music."
Pawan Kalayn also clarified that he will be doing Bhavadeeyudu Bhagat Singh with Harish Shankar and Mythri Movie Makers.