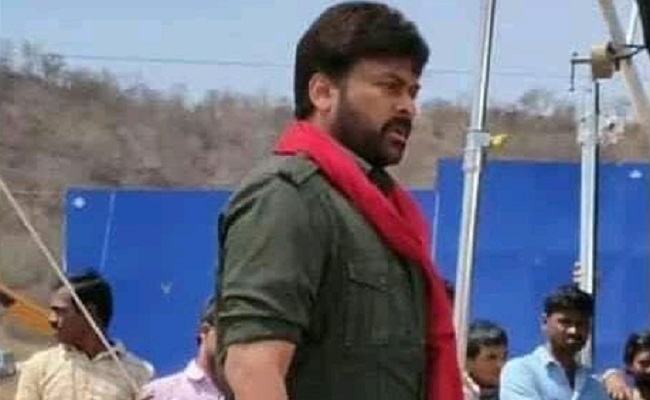 The fresh controversy is about the plagiarism allegations raised on the story of the film 'Acharya'.
When the first look of 'Acharya' was released recently, a story scene paper that has come out conveys that it has similarities with the teaser. A director named Anil had registered the story long ago.
The teaser scene is a page from his story. We do not know whether 'Acharya' story and his story are the same are not. But the content in the page and first look teaser looked similar and it has raised many doubts, says the writer. But the director has remained silent.
There is a talk that he had reportedly received warnings like they will drag him to court, file a defamation suit against him.
Meanwhile, another upcoming director has posted a lengthy message that his story has been lifted by the 'Acharya' team. A person named Rajesh Manduri an assistant to director B.Gopal has raised these plagiarism allegations.
He is saying that he had narrated the story to Mythri Movies and the story went to another director and it has become 'Acharya' now.
Rajesh Manduri is an associate director and he was acquainted to Mythri Movies producer Ravi Kumar, CEO Cherry through his constituency MLA Gottipati Ravi. When they asked for a good story, he narrated this story.
He said that Mythri Ravi Kumar listened to a part of the story and CEO Cherry listened to the remaining story and he had also recorded it.
Rajesh Manduri is claiming that it all happened at the end of 2018.As per the writer/director, when Cherry has expressed his view that this story has to be directed by Koratala Shiva for business reasons, the writer denied.
He said that he wants to direct by himself. But after that he did not receive any call from Mythri Movies team.
He said that he went to Chennai later at the time of elections and narrated the same story to another producer and convinced them to make it with Nandamuri Balakrishna.
Meanwhile, he came to know about 'Acharya' movie so he met Paruchuri Gopalakrishna for justice. He also said that he complained on Mythri Movies and to the concerned people in the Telugu Cine Writers Association in the same month.
He felt sad that the writers association didn't take any action even though he has all the proofs but they have given him a letter to approach the court.
He is saying that it is horrible that the association who took thousands of rupees for registration is acting in one sided manner.
He said that he has taken up the issue to Gottipati Ravi but he also said that he can do nothing about it and suggested that he proceed legally if he wishes to pursue the issue.