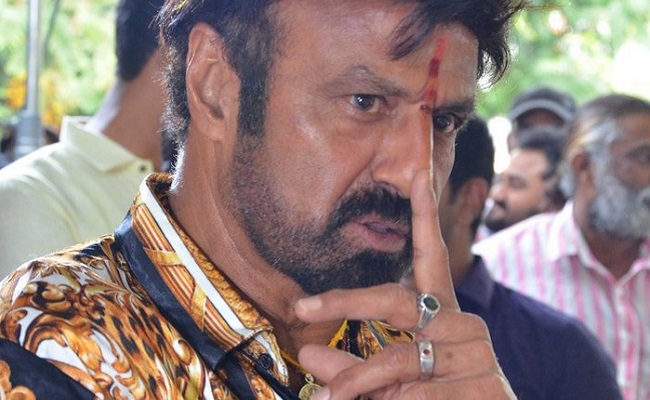 For the first time ever Nandamuri Balakrishna has given a long and reasonably understood interview.
He is generally known for his disconnected speech and broken syntax, but may be due to his right mood or for some other reason he spoke with some clarity on what he is talking about.
Though he tried to boast himself with his natural megalomaniac instincts but was caught here and there.
It is known that Balakrishna is born with golden spoon and has been spending his entire life amidst a closed coterie that makes him feel like a son of God.
Despite the rampant media, many stars like Balakrishna don't get exposed to news but only listen to what their personal news readers tell them. I feel Balakrishna is one such personality who will be on top of the list.
One news that he has been believing what he heard to be true is about the plight of Andhra Pradesh.
When asked about the one year rule of YS Jagan he said that there is no governance, everything is shattered and even the rapes have become rampant kind of things.
These opinions are clearly made and spread by a small section of people and a tiny part of media. He challenged YS Jagan that he should come to public and talk but not sitting in front of media cameras.
In fact, even Prime Minister Narendra Modi speaks through media. The one who is in power need not come out in public all the time to speak, that too during Corona time. Being the head of all the systems, he can drive the governance.
But going to public and interacting with them is the job of opposition party leaders those have no command on systems. But Balakrishna's viyyankudu CBN is not stepping out.
He made big hungama by coming to AP a few days ago, conducted Zoomnadu and ran away back to his Hyderabad home. Balakrishna should teach lesson to him instead of challenging Jagan.
Well, even if Jagan comes to public and speaks, what's that Balakrishna is expecting? Is he assuming that people will revolt like in French Revolution, an example he took in this interview? All these are hallucinations but not real.
Balakrishna should know that YS Jagan's popularity quotient as the most efficient Chief Ministers in India is ranked#4 as per the latest C-Voter survey.
Keeping that aside, the actor who delivered dialogues on YS Jagan's rule, has become dumb to answer the question about TRS rule in Telangana.
He tried to divert the topic by saying about people and their sentiments in this region, historical Razakar movement etc and concluded saying that the CBN in his reign has developed the region with Hitec city and International airport. He didn't even utter a single word about the present TRS government.
Answering another question he said that KCR will not be angry with him at any time and feels that he treats him as his own son. This shows how afraid he is with KCR.
I feel that he doesn't want to make any mess with his properties and institutions in Hyderabad by spoiling his relation with KCR and TRS party. As an admirer of Balakrishna for his films, I felt the lion behaved like a cat in the matter of talking about KCR.
Written By Padmaja. R