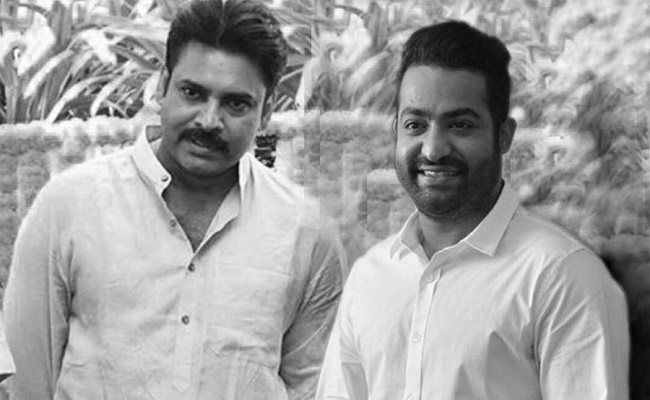 The team of any film star always welcomes a positive camaraderie of their star with other heroes. But when the other camps simply use their star to bring free hype to their film without the incident actually happening, the team certainly feels uncomfortable.
It was publicised as if Prakash Raj shared in an interview that Jr NTR hugged Pawan Kalyan after watching Vakeel Saab.
But the matter of fact is that Pawan Kalyan has been in home quarantine for quite a long time owing to the Covid 19 measures. How can Jr NTR hug him?
On the other hand there is no video byte of Prakash Raj where he gave the above statement. Indeed, he didn't even comment on this news yet if it is true or false.
When we enquired the Jr NTR team they clarified that this is fake news being spread by the "Vakeel Saab'' team to bring artificial hype for the film.
"In fact, there is heavy drop in collections for Vakeel Saab due to the 2nd wave of the pandemic and the makers are still dreaming to mint something in the second weekend using our hero's name. There is no truth in this. Neither our hero hugged Pawan Kalyan nor Prakash Raj said this anywhere", expressed a person close to Jr NTR.