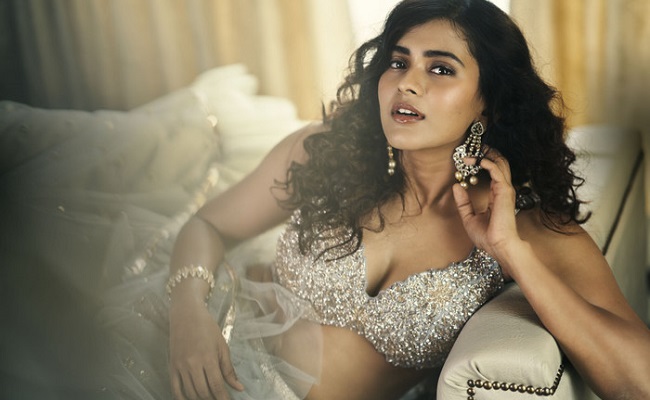 One of the most promising yet underrated heroines of the Telugu industry is Hebah Patel and recently this sultry siren got to share her thoughts in an interview to greatandhra.
Below are few excerpts:
She started off saying she is currently busy with the shooting of a crime thriller being produced by Radha Mohan.
About 'Orey Bujjiga':
The film was due for release on March 21st and a lot of promotions also happened but the situation is in nobody's hands. From 22nd onwards the lockdown started and there was a major discussion on whether to wait for a theatrical release or an OTT release. But the OTT demand is high right now and it is the best safe option so we have to make peace with it. 'Orey Bujjiga' is coming in Aha in October and we couldn't have asked for a better platform.
South Indian Cinema:
Though I hail from Mumbai, I have an attraction towards south Indian movies. I like to do Tamil, Malayalam, Kannada movies. Of course I will do Hindi movies if I get a chance.
Favorites:
My favorite hero in Hindi is Salman Khan, heroines are Rani Mukherjee and Kareena Kapoor. In Telugu, I love Jr NTR for his performance in movies like 'Nannaku Prematho' 'Temper' and he is very humble, and among actresses it is Regina.
Way forward:
I am trying to experiment with my roles as I am tired of being called the 'Bubbly Girl'. The scripts coming on OTT is very different and it is a good time to do such movies. My next project will be something unusual.
Working with Raj Tharun & Gossips:
Working with him in this new project is more like an extended cameo and since I know him from long it is not really a stressful thing. I just went with the flow and more than the number, I like to do good movies. Gossips are part of it and it began with the first movie but I don't bother much. Working with him is very good.
Working with Malavika:
She is a good person and I like the fact that she reads a lot. She is sweet and soft spoken too. We haven't interacted a lot but it is nice working with her.
Bad qualities:
I overanalyze a lot at times and !overthink otherwise I go with the flow.
Bigg Boss:
I am a huge fan of Bigg Boss reality show and I like looking at other people's lives. I do enjoy watching it. I watched the first season for Telugu and Hindi I watched most of them. But I can't be part of that show because I am not good with people. I am a very private person. I won't be able to add anything to the show so I am not the right choice.
Any bitter experiences in shooting:
In every shoot there are good and bad things happening but I have been fortunate not to have any. I have worked with some really nice people. It is mostly good and I am happy as I got nice memories with each project. I am in touch with my co-stars.
Guest appearances:
I did 'Bheeshma' because of my relation with Venky sir and the song in 'Red' I did because I never danced for anything massy. I have always been the cute bubbly girl. I wanted to do a special number. Everything happened in one year.
Fluctuating Career Graph:
Whenever I do a movie I want it to do well. For me, in my head the movie should work. I cannot complain about flops because I have also enjoyed hits. The ratio of flops might be higher but I have enjoyed hits and still continuously get work. I have made peace that hit or flop is not in my hands, I just have to do a good job.
Career Guide:
When I get a movie offer, the first person I call is my manager. I take his suggestion and then maybe I ask few friends. But mostly it is my manager.
Habits:
On regular day sleep, read and watch TV are my habits. My favorite authors are Sidney Sheldon, Murakami, Mc Abert and others. I don't even enjoy watching love stories. I like either drama, comedy or thrillers. I have read all of Chetan Bhagat's books.
Deglam Characters:
I am extremely deglamorous in my next movie and it is based in Telangana. I tried speaking in Telangana accent. I learn the lines and I speak it out very nicely. I don't take prompting. And after the scene is over, I can't remember them.
OTT Opportunities:
OTT is a medium which I wanted to try so when Krish sir narrated the script I liked it and it is for a new platform. I liked the production house, Ajay sir's direction, Krish sir's narration. Maybe two years ago I would not have done it but today there is not much difference between web series and cinema. I always wanted to work with Krish sir so that was also one reason.
Why Movie Line:
The main reason is I love facing the camera, it is my favorite. Secondly, the fame and money also help. Now, after working for few years I realized I actually like acting also. I studied journalism and I was okay to face the camera that way also. But after getting into movie line I enjoyed the process.
Click Here for Latest Direct-to-OTT Releases (List Updates Daily)