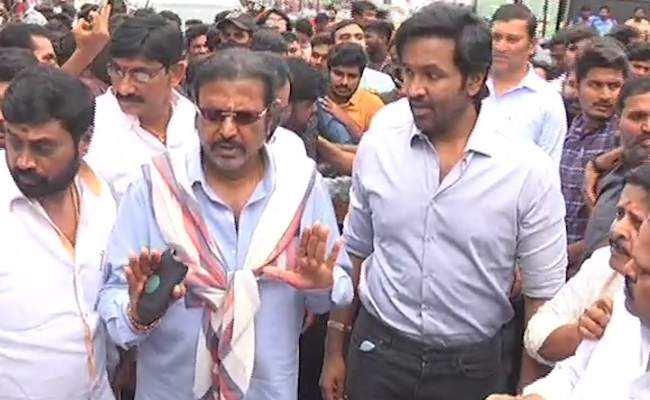 It is now official. Senior actor-turned-politician and former Rajya Sabha member Manchu Mohan Babu has declared that he now belongs to Bharatiya Janata Party.
Mohan Babu, along with his sons - Manchu Vishnu and Manchu Manoj, besides staff members of Sri Vidya Niketan, Chandragiri, walked down to a local court in Tirupati, to attend the hearing in a poll code violation case of 2019.
In March 2019, Mohan Babu, along with students and staff members of his institution, staged a dharna on the Tirupati road in protest against non-release of fees under fee reimbursement scheme. The Tirupati police booked a case against him for poll code violation.
That time, he made serious comments against the then TDP government led by N Chandrababu Naidu.
He joined the YSR Congress party in the presence of Y S Jagan Mohan Reddy and campaigned for the party. He gave an open call to the people to make Jagan as the chief minister.
But even after Jagan came to power in May 2019, the fee reimbursement issue remained unresolved. Though Mohan Babu met Jagan a couple of times later, he gradually distanced himself from the YSRCP.
Though his son Manchu Vishnu married Jagan's cousin, Mohan Babu maintained safe distance from the party.
There was a talk that he would be given Rajya Sabha ticket by Jagan; or at least TTD trust board chairman post or even made AP Film Development Corporation chairman.
But Mohan Babu didn't get anything. A few months ago, he met Prime Minister Narendra Modi along with his family members, leading to speculations that he might join the BJP, but it didn't happen.
He said that he admires Modi and his leadership and that the PM, too, likes him very much.
Now, on Tuesday, Mohan Babu declared that he is a BJP man and that he strongly desires BJP should come to power again.
"I am a real hero, but Modi is the hero of the nation," he said.
On his equations with Jagan, the senior actor said he wished that Jagan should become CM. "He became CM. That's all. Nothing more than that," he said.
He refuted the reports that he was unhappy for not being given any post by Jagan.
"I didn't ask for any posts or positions; nor did Jagan offer me any posts," he said.
Apparently, Mohan Babu was upset with Jagan for not inviting him to the talks with Telugu film industry but confining it to a few heroes like Chiranjeevi and Mahesh Babu.
He expressed his displeasure with former minister Perni Nani. It was only after that he had decided to join the BJP.