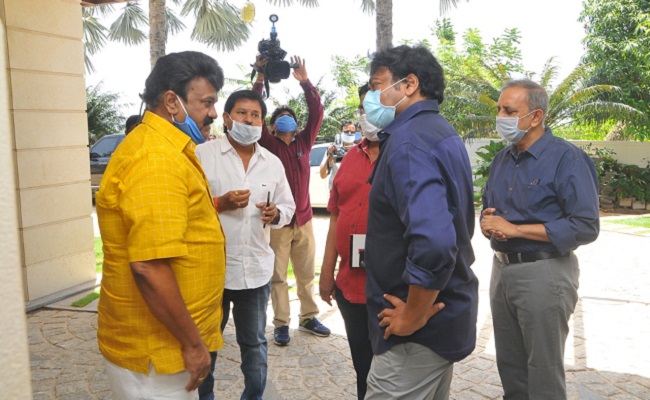 The problem faced by the film industry seems to be almost solved. Post-production activities are going to resume from today or tomorrow.
Except for the live-recording, live orchestra, post-production doesn't require more manpower. There is no need for people to gather in crowds. But shootings are different as hundreds of people work on the sets. The government is worried about the same issue to give permissions.
A meeting among the active producers(except for one or two) under the leadership of Megastar Chiranjeevi and in the presence of Minister Srinivas Yadav is convened today.
The producers came up with a proposal at the meeting. They have decided to conduct the trial shoot of big-ticket films like 'RRR' and 'Acharya' for one day.
For Rajamouli, Koratala Siva films, there will be 250 people in the location. Now, they should try to conduct the shoot with just 100 people. They should reduce the number of people as far as possible.
The other producers should observe these trial shoots and follow the same for their films. This is the basic plan. The trial shoot of these two films will be done very soon. If everything goes well, workers will be given the opportunity to work on a rotation basis.
Probably, the shootings may commence from June 1 following this plan.
<iframe width="100%" height="365" src="https://www.youtube.com/embed/NZ5ybYUZuAU" frameborder="0" allow="accelerometer; autoplay; encrypted-media; gyroscope; picture-in-picture" allowfullscreen></iframe>