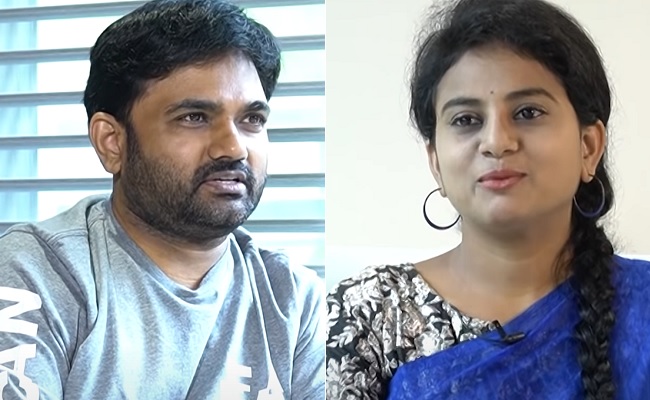 Director Maruthi has expressed many things from his personal life to professional front in his exclusive Chit Chat With Chandana for greatandhra.com.
Here are the highlights.
OTTs/ATTs
People have got more hitched to OTTs and ATTs during this lockdown time instead of Candy Crushes and Temple Runs. The most common things people do when free is eating, sleeping and getting into binge watching of movies. Even I did the same. I watched many films from Malayalam and Tamil. I believe in knowing what is happening in the neighboring houses. So that we can refresh ourselves and try something different, taking a break from simly what we know.
Allu Aravind's Court Director:
I feel good to get branded as the Asthana Darsakudu of Allu Aravind's camp. Neelima garu, the wife of Aravind garu is my relative. My friendship with Bunny since 2000 has helped a lot. Bunny Vas and SKN are part of my journey from distribution to direction.
Talent Is Luck:
I believe talent itself is luck. When God gives us some talent, we need topolish it in a way to entice the masses and commercialize it. Since childhood I did many jobs from selling bananas, working as an office boy, writing number plates, real estate and many more. My entire journey from the humble background helps me write more stories of different lifestyles now, being a director.
Only One Flop:
Audience will spare for the first flop. But they don't show mercy if we make 2nd and 3rd flops. They are very intelligent. We need to show our seriousness and commitment. Otherwise they don't look at us.
RGV- Power Star-Allu:
RGV is very intelligent. He has a lot of clarity of what he is doing. He is very transparent. He says what he is serving at what price but never bluffs the audience. I watched Power Star. He is making a film with the title Allu. I believe in making anything without hurting others. But if he chooses to hurt others then the concerned parties will show the reactions and the consequences have to be faced. That's all.
Shootings And Theatres:
I think things will come to normalcy from September 25th. I wish everyone should be busy from October.