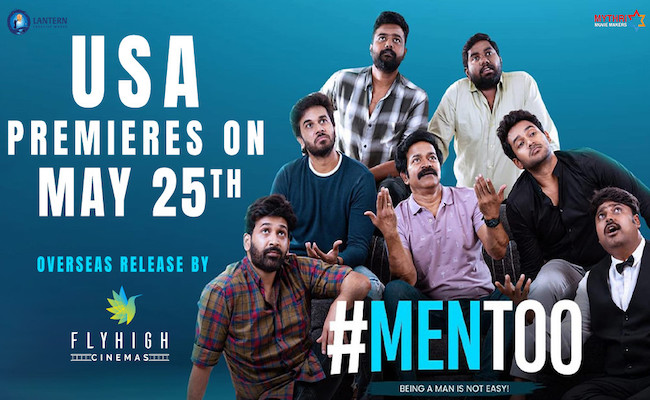 Overseas Distribution Company FlyHigh Cinemas, which is on a super high with the blockbuster success of movies like Balagam, Writer Padmabhushan, Anni Manchi Sakunamale, Sarkaru Vaari Paata, Oke Oka Jeevitham is now coming up with another promising film #MENTOO.
The crazy youthful entertainer #Mentoo directed by Srikanth G Reddy showcases the problems faced by men in women sympathized society bringing in a revolution highlighting #Mentoo like #Metoo.
The hilarious laugh riot is all set to hit the big screens on May 26th worldwide, while getting premiered in the USA on the 25th of May on a grand scale by the Overseas Distribution Company FlyHigh Cinemas.
The official trailer of #Mentoo movie released recently created a wave on the internet and raised the expectation for the movie.
Going by trailer, the movie not only deals with the issues men face in daily life because of women but also passes a strong message in a very funny manner that connects to audiences of all ages and sections.
On the whole, the movie promises to be a healthy entertainer, while the comedy timing of Naresh Agastya, Brahmaji, and Viva Harsha stands out. The quirky dialogues reach the youth with ease and the background score is another highlight for the film.
Bankrolled by Mourya Siddavaram under Lantern Creative Works in association with Mythri Movie Makers, #Mentoo film stars Naresh Agastya in the lead role, Riya Suman and Priyanka Sharma as the female leads.
Brahmaji and Harsha Chemudu play an important role in the movie also stars Mourya Siddavaram, Kaushik Ghantasala, Ashritha, and Karthik Adusumilli. Elisha Praveen G & Osho Venkat scored the music for the film, edited by Karthik Vunnava and shot by PC Mouli.
CLICK HERE! to Watch Trailer.
CLICK HERE! for "MEN TOO" USA Schedules.
Content Produced by Indian Clicks, LLC