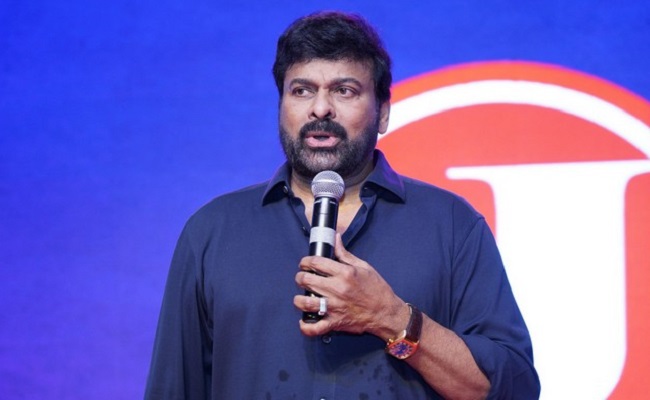 Megastar Chiranjeevi, who has been maintaining stoic silence over the controversy over reduced cinema ticket prices and closure of cinema theatres in Andhra Pradesh in the last few days, came out with a statement on the increased ticket prices in Telangana.
Chiranjeevi took to Twitter and expressed thanks to Telangana chief minister K Chandrasekhar Rao for conceding the request of the Telugu film industry and revised the cinema ticket prices that would do justice to all sections of the industry, including producers, distributors and theatre managements.
"This will go a long way in doing a lot of benefit to the survival of cinema theatres and thousands of workers depending on the industry," the megastar commented.
The Telangana government recently issued orders increasing the ticket prices in the cinema theatres across the state, without taking into consideration the gram panchayats, naga panchayats, municipalities and corporations.
Accordingly, the minimum ticket price will be Rs 30 plus GST in non-air conditioned theatres, Rs 50 plus GST in AC/air-cooled theatres and Rs 100 plus GST in multiplexes. Similarly, the maximum ticket prices in these theatres would be Rs 70 plus GST in non-AC theatres, Rs 150 plus GST in AC theatres, Rs 250 plus GST in large single-screen theatres and IMAX theatres and multiplexes.
For recliner seats in single screen theatres, the maximum ticket prices would be Rs 200 per GST and in multiplexes, it would be Rs 350 plus GST. Besides, the Telangana government has also allowed theatres to collect an additional amount of Rs 3 per ticket for theatre maintenance charges in non-AC theatres and Rs 5 in AC theatres.
Well, Chiranjeevi expressed thanks to the Telangana government, but one wonders why he is silent on the AP government. However, one film buff said the megastar comment thanking the Telangana chief minister is enough signal to the Andhra Pradesh chief minister as well.
"There is no need for a separate appeal to Jagan Mohan Reddy. His comment clearly indicates that the Telangana chief minister alone has understood the problems of the Telugu film industry. So, it is an indirect potshot at Jagan. Moreover, he has already made an open appeal to Jagan in the past requesting him to consider the ticket prices," the film critic commented.