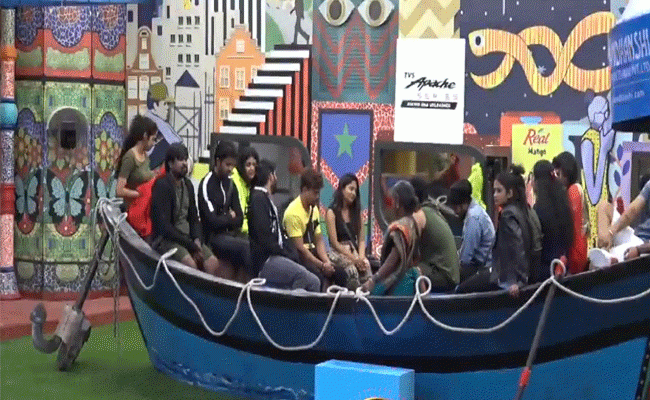 Bigg Boss is about extreme competitiveness as there is no prize for the runner up, not even a consolation prize. Only the Winner takes it all!
Housemates should be friendly with each other when they are not performing any tasks or going for nominations. They should fight hard for their place during tasks and nominations.
But most of the contestants that go to Bigg Boss Telugu behave like Relangi Mavayya (Prakash Raj) in Seetamma Vakitlo Sirimalle Chettu.
They talk about relations, bonding, blah blah. Only a few contestants like Kaushal put in their best efforts to become the winner.
Season 4 is into the second week already and there is an absolute lack of competitive spirit in the house. Bigg Boss has set up a boat and asked fifteen housemates to sit in it except captain Lasya.
He told that nine out of fifteen contestants who step out of the boat will get nominated.
The team would've expected that contestants would fight hard to escape nominations (remember the car task in season 2?). But these birdbrained contestants voluntarily came forward to get nominated.
'I need to prepare for dinner. So I will get down first' are the silly excuses they have made to come out of the boat. Even if some contestants wanted to resist, apparently, they backstepped in the fear of looking bad amid so many Relangi Mavayyas.
Nagarjuna must make sure to tell them in the harshest way possible that this show is not about relationships and bondings. Or else these contestants are capable enough to make this season a Karteeka Deepam kind of soap opera for sure.