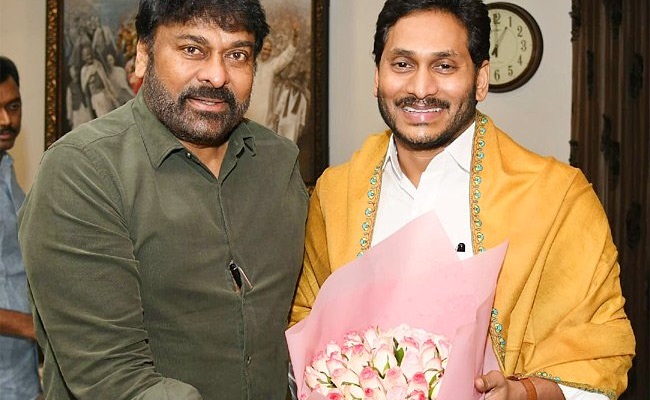 Those who know YSR Congress party president and Andhra Pradesh chief minister Y S Jagan Mohan Reddy in close quarters say that he is a very good host and he takes enough care that those who join him for lunch or dinner returns would enjoy the feast thoroughly.
On Thursday, Jagan hosted sumptuous lunch for Tollywood megastar Chiranjeevi, who came to meet him to discuss the problems confronting the Telugu film industry.
What is more satisfying for the megastar is that the lunch was served not by the stewards or servants at the chief minister's residence, but Jagan's wife Bharati Reddy. And the highlight of the menu was Hyderabadi mutton biryani!
"It was a very pleasant experience. The chief minister treated me like his own elder brother on the festive occasion of Sankranti. He was very affectionate and I was very much delighted with the way he spoke to me. More than anything else, I was extremely happy with the way Bharati garu personally served all the items to us at the lunch," Chiranjeevi told the media later.
The megastar said he had told Jagan that he would brief the outcome of the meeting to the industry people and get their feedback, which would be placed before him in the next meeting.
When he asked the chief minister where he could meet him next time, the chief minister said: "Why anywhere anna, whenever we meet, we shall meet over lunch at my residence." This made Chiranjeevi happier. "I was impressed with Jagan treating me like his own family man," he said.
He said if Jagan calls for a next meeting, he would come either alone or even with 100 persons of the film industry.
"I prefer coming to the meeting with a big delegation. Now, I came here as a son of the industry, not as an elder," he said.
The megastar said Jagan asked him to look from the government's angle as well, not just in the angle of the film industry.
"He reposed a lot of faith on me and gave me a lot of assurance. I felt very responsible after meeting him," he said.
Stating that the chief minister had assured him of a favourable decision that would help all sections of the society, Chiranjeevi requested the representatives of the film industry to maintain restraint and not to make any controversial comments.
"I am confident there would be a government order that would be amicable to all sections. The chief minister also responded favourably to the request for allowing a fifth show for small-budget films," he said.